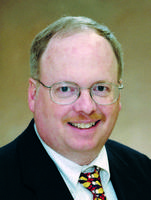 Bedding leaders gain insights at F/T Conference
December 12, 2012
Bedding leaders heard encouraging news about business prospects in the years to come, gained valuable insights into how to tap into the Millennial market, and helped honor one of their own at Furniture/Today's recent Leadership Conference.
Once again the bedding industry was strongly represented at the Leadership Conference, with several Top 10 and Tier Two bedding producers joining sleep accessory producers and bedding component makers in attendance.
The bedding contingent included executives with Serta, Tempur-Pedic, Therapedic, Kingsdown, Restonic, Englander, E.S. Kluft & Co., Southerland, Shifman Mattress, Reverie, Glideaway and Wolf Corp. on the producer side, and Leggett & Platt, Hickory Springs, Culp, Deslee Textiles, Latex International, Flexible Foam, Colonial, Retail Mattress Solutions and Wright Global Graphics on the supplier side. Sleep accessory vendors Gotcha Covered, GBS Enterprises and Protect-A-Bed also joined the bedding mix.
And the strong retail group included several retailers who do a good job in bedding.
In the middle of the action was Serta President Bob Sherman, who continues to impress with his hard-working ways. The No. 1 bedding producer is not resting on its laurels.
The conference provided another demonstration that bedding leaders are anxious to brush up on their leadership skills, expand their horizons, and network with industry leaders throughout the home furnishings industry.
I've been saying for years that it takes just one business-building idea to make attendance at one of Furniture/Today's conferences a worthwhile endeavor. And the Leadership Conference did not disappoint; literally dozens of ideas and strategies were presented.
Jerry Epperson, the well-known analyst who is a popular speaker at industry events, said several key pieces are in place for a big economic boom, and said a major housing boom is in the offing. Those developments would give mattress sales a big boost.
Other conference speakers covered topics ranging from Millennials to the importance of marketing to new advertising mediums (have you tried Pandora?).
The Supplier of the Year was Hickory Springs, a major source of foam and innerspring components for the mattress industry. Dave Colburn, CEO of Hickory Springs, said the loyalty of his company's employees is a key to its success. The Hickory Springs team also stands out through its "depth of experience and commitment," Colburn said.
Next up is Furniture/Today's Bedding Conference, set for May 8-10 at the Sheraton Wild Horse Pass Resort in Chandler, Ariz., just outside Phoenix. Based on the enthusiasm of the bedding contingent at the Leadership Conference, we believe another strong Bedding Conference is on the horizon. Details to come early next year.