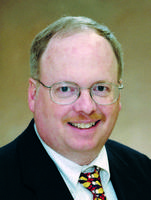 Detroit shows signs of middle-market rebound
December 5, 2012
The day dawned bright and cold. The dining room on the 10th floor of The Henry hotel afforded an expansive view of the Detroit skyline, where puffy ribbons of commerce unfurled from the smokestacks that dotted the horizon. The day was coming alive. Workers were warming up their offices and factories.
I took in that view the other day with Restonic President Ron Passaglia and Bob Quinn, president of Restonic Sleep Products of New Albany, Ind. It was an instructive scene, one that sheds light on a key opportunity facing the mattress industry.
"The middle of the market is showing signs of life," Quinn observed, looking out at the Detroit landscape. The three of us were in the heart of auto country in Dearborn, Mich. Yes, The Henry is named after automobile pioneer Henry Ford. Ford's world headquarters, known affectionately to locals as The Glass House, are a short drive away. The Henry sits, appropriately enough, on Fairlane Plaza.
We were in Detroit to visit Gardner-White, a growing furniture independent that includes Restonic in its bedding assortment. That retailer recently added three stores to its lineup and is thriving in, of all places, Detroit.
Steve Tronstein, president of Gardner-White, told us that some people are surprised at his company's success. Detroit is not the down-and-out city of popular thought, he said.
Gardner-White's big growth push is a testament to the power that Detroit's economic engine is generating. The strength in this most blue collar of cities is a good sign for the mattress industry, I think. Bob Quinn, whose factory produces the broad line of Restonic sleep sets that are floored at Gardner- White, told me over breakfast at The Henry that the death of the middle market has been greatly exaggerated.
"Our competition thinks the middle of the market is gone," he said, "but it didn't disappear. We have growth there. The values we offer there are significantly better than those that our leveraged competitors can bring to bear."
Quinn says some middle-class consumers had to postpone their bedding purchases in the tough times that hit the industry in recent years. But now, he says, money for mattresses is returning to the middle class, which is showing strength as the economy experiences an uptick, and offers the prospect of even more growth ahead for companies like Restonic. He believes a resurgence in those middle price points, from $599 to $999, is coming.
Our visit to Detroit certainly provided some evidence that the middle class is staging a comeback, although much more progress is needed. We wonder if the bedding industry will spend more effort on those middle price points. That looks like a smart move to us.