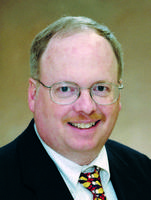 No more whining: History says 2013 will be a good year
November 21, 2012
The sign was too far away for the presidentelect to see, but it caught my eye: "This is the end of civilization as we know it."
That may sum up how some of you are feeling these days in the wake of the recent presidential election, but that sign was actually hoisted by an unhappy camper on Inauguration Day 1981, when Ronald Reagan took office. I was in Washington that day, covering the inauguration for the High Point newspaper that employed me in those days.
Well, the world didn't end with Reagan's ascendency to power, and it won't be coming to an end with President Obama's reelection either. (Note: This assumes the Mayan end-of-the-world prophecy for this Dec. 21 is a non-starter.)
I know there is much angst in some industry circles over Obama's reelection. One industry leader shared his mattress projections with me before the election but added this stern note: If Obama wins, tear his projections up and say he had no comment. This is not a good way to move forward. The fact is, Obama defeated Romney. The voters have spoken. We can't change the outcome. But we can control how we approach business next year. And hand-wringing won't get us anywhere. A look back 30 years into the bedding archives reveals that business is robust in the year following a president's reelection, whether the victor is a Republican or a Democrat.
In 1985, the year after Ronald Reagan won reelection, the dollar value of bedding shipments jumped 5.6%. In 2005, the year following George W. Bush's reelection, bedding dollars jumped 12%. That gives us 8.8% average growth in the year following a Republican's reelection. Before Barack Obama just did it, only one Democrat had won reelection in the past 30 years. That was Bill Clinton. And bedding dollars jumped 8.2% in the year after he was voted in for a second term in 1996. That's almost exactly the average bedding growth rate recorded under Republican presidents who were returned to office. So history tells us that business should be strong next year, even with - gasp - a Democrat back in office.

The International Sleep Products Assn. is predicting 6.3% dollar growth next year. (Furniture/Today's Bedding Consensus Forecast won't be released until early next year.) As you can see, there are a number of reasons to expect good bedding business next year. Let's stop this pointless whining about Obama's win. A better strategy is to make plans for good bedding business next year. History says a good year is on the way.