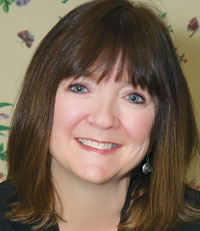 It's (almost) Showtime!
November 13, 2012
In just a couple of weeks and post-turkey day, I will be attending Showtime in High Point. Although it will be my first visit to the semiannual fabric show, I'm already meeting and learning about some of the major fabric companies that are the starting point for many noteworthy upholstery pieces, and I have to say that I am in awe of the level of creativity that is prevalent throughout the industry.
On a recent visit to the P. Kaufmann showroom in Textile Tower, Bob Patton was gracious enough to show me what the company will be introducing at Showtime. Prints, wovens, patterns, solids - the fabric smorgasbord prompted numerous visions of what might make an appearance at the spring furniture market. (Maybe that lovely blue velvet will appear on a wing chair or perhaps that dramatic novelty print with the oversized leaves will show up on an ottoman.) And while the daydreams of 2013 future furniture were nothing short of extraordinary fun for me, the experience also left me with an appreciation for the decision makers - the individuals who go to Showtime and try to discern what will make an impression on furniture buyers as well as the innovative folks who continuously study the world around them as inspiration for beautiful new fabrics.
In an upcoming column, I will show some of the most striking pieces that I saw at the fall market. Now that I'm immersed in all things fabric leading up to Showtime, I realize that many of the pieces that made an impression on me, and on many buyers as I've since learned, were also pieces with memorable "wow" fabrics. From Dorothy Draper's Brazilliance to Disco and hair-on-hide, the fabrics at fall market garnered a lot of attention, and it's exciting to realize I might be getting a sneak peek at the big hits of the spring market during Showtime.
Catherine Morsell and the team at International Textile Market Assn. have put together a great show for Dec. 2-5. There will be a new silent auction, several great events and of course, samples of the latest and greatest fabric from talented designers. And while information about the new fabric introductions is still coming across my desk, it's easy to see that there are going to be more than a few surprises. If you're attending, let me know what your favorite standouts are and why you like them. We'll compare notes and see which ones end up making a splash in the spring.