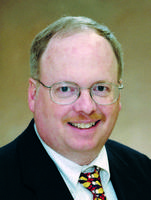 Sealy brand builder Haas a worthy HOF inductee
November 7, 2012
Howard Haas, one of the great builders of the Sealy brand, delivered a blunt message to the owners of Sealy, Serta and Simmons: Let management run the business. If the owners will do that, Haas said, they can stay up late counting their money.
The former Sealy CEO and president, who spent almost 30 years at the company before retiring in 1986, made those remarks to a packed room at the American Furniture Hall of Fame induction banquet at the recent High Point Market.
Haas, 88, was inducted into the Hall of Fame, an achievement that has proven elusive for bedding veterans. And he used the occasion well, reminiscing about his time at Sealy and his ties to Hall of Fame members Don Belgrad, Lawrence Schnadig and Gordon Segal.
He also recognized former Sealy executives Bob Sherman, Ed Lilly, Roy Unger and Zenon Nie, who all went on to play prominent roles in the industry. Sherman is president of Serta; Lilly, former president of Serta, is a partner in Lilly Management Group, an industry consulting group; the late Unger also was a former president of Serta; and Nie is a former CEO of Simmons who does consulting work.
And he had a special shout out to Sealy's current CEO, Larry Rogers, whom Haas hired 33 years ago in Canada.
Haas said he was honored that Hall voters elected "a mattress man, or an ex-mattress man" to join its ranks.
He worked for Sealy for 27 years, the last 19 as president and CEO. During his tenure, revenues increased from $32 million to $550 million. After a Sealy licensee gained control of the company in 1986, Haas left. There was no room for two CEOs, he said.
Haas, who went on to teach at the University of Chicago's Graduate School of Business, said he left Sealy with "a great deal of satisfaction and pride" in the work he had done there, which included Sealy becoming the first bedding company to run national TV advertising.
He spoke movingly about what made Sealy a great company: "Our quality people, people who tell the truth and honor their commitments, who set higher standards after each achievement, who care long term about what they do short term, and who handle their success without arrogance."
Haas didn't just look back. He congratulated the owners of Sealy, Serta and Simmons for their "confidence in the future of the mattress business."
I had the pleasure of covering Haas in my early days on the mattress beat for Furniture/Today. It was nice to see this visionary mattress leader, a man of professionalism and integrity, receive recognition from the home furnishings industry in which he built his legacy. Congratulations, Howard.