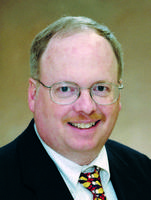 Here are some mattress must-sees in High Point
October 10, 2012
This week, as a service to those retailers planning their High Point mattress visits, we offer a quick overview of some new bedding lines worth a good look.
One of the biggest new mattress story lines in the Furniture Capital of the World this month will be unveiled in the Simmons showroom. The bedding major, aggressively seeking growth under hard-charging CEO Gary Fazio, is offering what it is billing as a major introduction in the specialty sleep arena.
Simmons says the new line will have technology designed to maintain ideal sleep surface temperatures, a theme in a growing number of bedding lines. It's unusual for a bedding major to use High Point for a big introduction, so Simmons obviously believes it has an important collection to bring to market now rather than waiting for the next Las Vegas Market.
Simmons is playing its cards on this introduction close to its vest. Details will be released at market.
Independent bedding producers will also be making news in High Point.
Jamison, which has elevated its game in recent years, offers what it is calling the next generation in Talalay latex bedding. The company's Talalay Latex Collection (TLC) features layers of a new slow-recovery latex that uses phase-change materials to regulate sleeping temperatures.
The line takes flight with butterfly-themed ticking, marketing materials - and a showroom that "opens" to spotlight upper-end two-sided models in the line. Jamison is aiming to stand out in High Point with several ads and banners in the market.
Gold Bond is also introducing new latex beds, including its first two-sided latex model. (Do I see a mini-trend here?) In addition, the producer is debuting one-sided beds with softer feels in its Comfort Collection and is showing lower profile models in its Sacro-Support Encased Coil line.
Shifman, a high-end specialist that sells only to furniture stores, is celebrating classic designs with its Vintage Collection. Updated border designs, new fabrics and enhanced corner guards are among the new features incorporated in the line.
Paramount Sleep is introducing an all-foam HD Super Duty Collection. As the name suggests, the beds are designed to ensure durability. The mattresses feature layers of memory foam, gel memory foam and latex and are backed with a warranty specifying a half-inch standard for body impressions.
These new lines are definitely worth checking out in High Point.
Many other mattress and sleep accessories lines will also be on display in High Point next week. There is enough bedding in High Point to keep a mattress shopper - and your humble mattress writer - busy for several days.