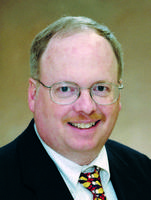 New era begins at Kingsdown as Hinshaw Express pulls out
August 27, 2012
As Eric Hinshaw wrapped up a reflective look back at his long bedding career, the sound of a train rolling through downtown Mebane, N.C., drifted over to the Kingsdown complex not far away.
The image was appropriate: The Hinshaw Express was finally pulling out from Kingsdown. "We had a pretty good run," Hinshaw said. Now it was time to go.
After more than 30 years as CEO at Kingsdown, Eric Hinshaw has welcomed a new conductor to the bedding brand. He has passed the reins to Frank Hood, a consumer products marketer he brought to the company four years ago.
Kingsdown is now rebuilding from a tough year in 2011, when sales dropped sharply and the company initiated a number of cost-cutting programs, including layoffs. Sales are coming back this year and costs are now in line, Hood said.
And now Hinshaw, 62, rolls into a new phase in his life, one more focused on his family and on his charitable causes.
He will serve as an advisor to the company he helped build, and he remains the largest minority shareholder at Kingsdown. "I am not ready to get completely out of Frank's hair," Hinshaw said. "I will stay around for a while as an advisor. Frank will have an advisor who might be loud in his ear if he goes off in the wrong direction."
For his part, Hood, 46, said he will welcome Hinshaw's insights. "He has a lot of history to take advantage of," Hood said.
Hinshaw remembers decades of hard work that he put into Kingsdown, including Sunday mornings and afternoons. "I worked lots and lots of long hours here," he recalled, sounding tired at the memory of that work. "I put in more hours than a lot of people older than I am. That's my nature. Now I'm ready for a time when that doesn't happen." He paused. "Maybe I'll regret it," he added.
He's looking forward to traveling for pleasure and not for business: "It will be a time to explore. I'm not one to sit around."
He served on the advisory board for the Fuqua School of Business at Duke University, and currently serves on the board of the Duke Children's Hospital and the Elon University board of trustees. He also serves on the board of the American Furniture Hall of Fame.
It will be nice, Hinshaw said, to have more time for causes like those. New journeys beckon for him. And a new era begins at Kingsdown, which welcomes a new CEO for the first time in more than three decades.