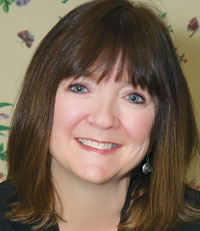 Why 'fashion forward' should be part of your bottom-line vocabulary
August 22, 2012
An interesting discussion occurred at the Tupelo Furniture Market, and it went something like this:

"Are you the one who wrote the upholstery article on color in Las Vegas?" said the manufacturer's rep.
"Yes, I am."
"Well, I want you to know that I put this sofa in the main showroom window because of that article, and I just sold an entire container to some folks. I wasn't sure about it, but the ladies certainly love it."
The sofa referenced was tangerine-hued and accompanied by a turquoise-tinted chair. When people walked by the grouping, a majority of them stopped, some pulling out cameras and others continuing through the door to learn more about the product. It was a crucial and welcome response to an introductory collection and one that underscores the importance of paying attention to the "fashion" of furniture.
Some studies report that more than 90% of all furniture purchases are made or influenced by females. Consequently, retailers that capture her attention are also going to be in a stronger position to capture her dollars and strengthen their bottom line. But what catches her eye?
Color.
Did you know that Tangerine Tango is Pantone's color of the year? Do you know why it matters?
Every year, women's magazines devote valuable print space to "the" must-have color for the season's wardrobe. Page after page features the hottest hue, and it is shown on everything from apparel to accessories. And since home furnishings trends follow those of fashion, these same colors eventually work their way into the furniture world.
Think about this - orange was one of the hottest colors at Miami Fashion week in 2010, and female attendees at the 2012 Tupelo Market had an overwhelmingly positive response to the previously mentioned tangerine sofa. In Las Vegas, the orange Aquarius chest elicited countless "oohs and ahhs" in the Lexington Home Brands showroom and is reported to have been inspired by Hermes signature Birkin handbag in a similar shade. Female consumers become comfortable with many of these colors through their wardrobes, and then they're eager to bring them into their homes.
Most of the time, the female consumer is the architect of style for her household, and when she is considering a furniture purchase, many factors come into play. The days of stiff formal sofas have vanished along with VHS movies and cassette tapes, and the female consumer who is also a wife, mother or girlfriend wants a comfortable place for her friends and family to relax. But make no mistake — she is also looking for something stylish that will function as part of a cohesive decor plan. And it doesn't matter if she's a $499 sofa buyer or looking for something more expensive - she wants her home furnishings to reflect her individuality.
Consequently, retailers who offer the opportunity for customization — regardless of price point — will be rewarded with the buying attention of an appreciative, and often loyal, female customer.
In an era of challenges for brick-and-mortar retailers, one fact remains — many female consumers treat the shopping experience as an enjoyable, pseudo-recreational activity. That can be hard for some guys to grasp, but it's easy to address. If she's in a store and is offered coffee or tea, she's going to browse longer. And if when she's browsing, she sees the furniture with coordinating accessories, she's going to transplant what she's seeing in front of her into her own home and start to think about other factors like durability, design flexibility and function.
Most ladies are not of the "walk in, buy and leave" mindset when shopping — whether for a sofa or sandals — and retailers who create a "social" buying experience are one important step closer to making the sale.