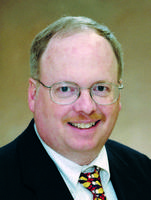 Las Vegas Market winners: Colorful displays, fresh ideas
August 21, 2012
These were some of the things I liked in mattress and sleep accessory showrooms at the Las Vegas Market.
Aireloom's new marketing campaign. CEO Earl Kluft put his usual meticulous effort into this campaign, finding an English artist who illustrates children's books to draw the pictures. Kluft describes the look as "young and elegant, fresh and a little retro chic." The first ad shows the happy scene when a mattress is delivered to a beautiful home. The ads will be used in consumer advertising and for in-store displays. Well done, Earl.
Dormeo Octaspring's entry into the U.S. market. The European producer of memory foam springs made a big splash in Las Vegas with a sleek, black-and-orange showroom - and color-coordinated M&Ms. The memory foam springs, which resemble air filters, come in various firmnesses and colors and are offered in five mattresses and four pillows. This is a unique, fresh line, backed by some bedding veterans, that looks like it could gain some traction.
Protect-A-Bed's new showroom. It's like an Apple store for sleep accessories, with beautiful, striking displays illuminated by bright lighting. The company's growing line of sleep accessories stood out in a powerful display, based on the showroom presentation at the company's new headquarters in Wheeling, Ill., which opened last fall.
The nap room at Pure LatexBliss. This is a simple - and brilliant - idea. The producer of latex beds and sleep accessories gave weary retailers a chance to get comfy in a plush latex bed and take a quick nap, shielded by a curtain. Retailers would benefit by offering more privacy in their stores for consumers to get comfortable on the beds they are trying out.
The gross margin dollar presentations at Pure LatexBliss. The producer displayed the gross margin dollars offered by each of its beds. "That's what retailers are putting in the bank - dollars, not percentages," said Kurt Ling, president of Pure LatexBliss. Good point, Kurt.
Wright Global Graphics' new high-tech headboards. Adding light and sound to headboards can make a mattress presentation pop. That vast sea of white that characterizes most mattress stores cries out for color and drama. "It has always amused me that displays are treated as a throwaway item," said Don Wright, Wright's chairman. With the new headboards, point-of-purchase presentations can be quickly updated.
Therapedic's new Agility line of gel foam and micro-coil beds. The orange-tangerine ticking with a contemporary floral design was eye-catching. And the Therapedic showroom had a nice citrus aroma, courtesy of real orange trees, orange oils and orange-scented candles.
Notice any trends here? Each of these companies offered standout displays incorporating creative, colorful ideas.
We don't need more boring beige rectangles to add to mattress floors. What we do need is fresh thinking. Kudos to these companies for stepping up and making leadership statements.