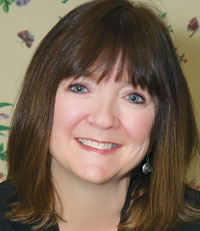 Taste in style is an individual thing
August 10, 2012
Along with volleyball, track, swimming and gymnastics, many of the billion-plus viewers of London's summer Olympics have also caught frequent glimpses of the Duke and Duchess of Cambridge, affectionately known as William and Kate. And every time the camera has stopped on the famous royal couple, lively discussions have ensued about Kate's ensemble of the day, prompting immediate Google searches for her preferred jeans, shirts and dresses.
The industry of "Kate-watching" is thriving, and legions of fashionistas regularly attempt to define the future queen's personal style. But as these self-appointed pundits have learned, Kate's style is not one-dimensional, but is instead constantly evolving in response to new occasions and life events.
Home furnishings often take inspiration from the fashion industry, and perhaps the definition of style should as well. Like the Duchess' ever-expanding wardrobe, new collections at the summer Las Vegas Market reflected obvious trends - think vibrant color combinations, streamlined profiles and the occasional animal print - but it would be impossible to categorize the showroom offerings into an all-encompassing style definition. And that is actually what's best about the concept of style - it can be interpreted in endless ways.
In my new role here at Furniture/Today, I plan to regularly report on style and design trends as well as all things upholstery. I will share what I see in showrooms, factories and at furniture markets from all parts of the globe, and I'll pepper my writing with words like tangerine tango, Bauhaus and Baughman. But what I won't do is simplify the concept of style to a "like this, not that" definition.
Think about it this way - if you know that you look better in blue, should anyone really try to convince you to wear green? And if you love ornate woodwork or oversized recliners, should that be dismissed in favor of glass and chrome collections?
Sure, style is about color, texture and creative design, but it's also about comfort, fabric choice and functionality. There is no right or wrong answer, and like the Duchess of Cambridge, we are free to develop our own sense of style from the options we are given. It might be inspired by the work of famous furniture designers like Charles and Ray Eames or Finn Juhl, or it can come from an online product blog or seasonal retail catalog. Regardless of origination, style is an individual, evolutionary process that should always eschew "one-size-fits-all" mentality.