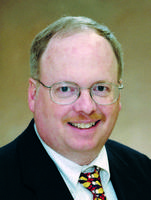 Bedding dumbbell features gel intros at low, high ends
August 1, 2012
Here we are again, at another bedding-loaded Las Vegas Market. If there is a more vibrant category at this market, please point it out to me. Bedding continues to shine bright in the Vegas sunshine. (No, that's not a comment on the summer heat.)
This market we've got more evidence of the bedding barbell, er, dumbbell, as Craig McAndrews of Mattress Firm recently defined the market. There is still a gap in the middle of the market, he said, but it has narrowed.
Recently crowned U.S. sales leader Serta is making two hybrid bedding moves on the right side - the high-priced side - of the dumbbell. It is adding two models to its iSeries, which combines gel memory foam and a new spring design and is a follow-up to the hugely successful launch of the all-foam iComfort gel memory foam line last year. Serta adds a $1,999 pillowtop to the iSeries and a $2,999 model with a zippered cover. Observation: The high-end is alive and well.
Sealy, on the other hand, is making an aggressive move to the left side of the dumbbell, the lower-priced side. It is taking gel memory foam, which has been concentrated, for the most part, at prices above $1,000, down to promotional prices. Sealy says it is the first bedding major to introduce gel bedding at a promotional price point; its new Sealy Comfort Series Memory Foam line starts at $599. The company's rationale for that aggressive move: Retailers say customers are looking for more affordable gel beds. But Sealy is also introducing a new high-priced gel bed, a pillowtop at $3,799.
Simmons, meanwhile, is making moves at the high end this market. It is adding three models to its Beautyrest Black line, which retails from $1,999 to $3,299, with a firmer coil to deliver a broader range of comfort choices. Beautyrest Black beds, by the way, feature Simmons' GelTouch foam.
Speaking of gel, that material will once again be all over the market. It is featured in introductions in most bedding showrooms, including Comfort Solutions, Therapedic, Kingsdown, Englander, Spring Air International, Restonic, Pure LatexBliss, Classic Brands, Carolina Mattress Guild, Enso Sleep Systems, E.S. Kluft, Five Star Mattress, Glideaway, Paramount and Vivon Life, just to name some of the companies that quickly come to mind.
We don't expect to see any gel at Tempur-Pedic, the memory foam leader that has hit a sales slowdown. We do expect that producer to come to market with some aggressive plans to get its business moving ahead again.
What should we expect in the way of business? I've heard that retail is tough these days, but major players continue to say they are driving sales with aggressive moves.
I do know that the hard-charging players are the ones who will find any growth that is available. And I know, too, that there is plenty of opportunity in Las Vegas for retailers to make business-building plans for the rest of the summer and the fall.