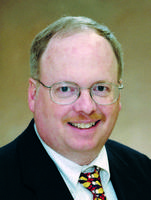 Remembering vibrant leader Dave Young
July 18, 2012
The unexpected death of bedding entrepreneur Dave R. Young is a tragedy that robs the mattress industry of one of its most vibrant leaders.
Dave Young
Young, the CEO of VyMaC Corp., was killed in an accident while he was working on his car over the weekend. He was just 45.
Like others in the industry, I'm stunned by this news. It hardly seems possible that someone with Dave Young's energy, enthusiasm and zest for life has left us so abruptly.
The tributes have already begun. Ryan Trainer, president of the International Sleep Products Assn., remembered Young as being "passionate about life and the mattress industry," someone who "generously shared his enthusiasm and entrepreneur's spirit with the industry and ISPA."
Many more tributes will come as the sad news of Dave Young's death filters through the industry.
I remember my last meeting with Young. It was in Indianapolis at the ISPA Expo this past March. We were at the Leggett & Platt party at Union Station, in a suite of upstairs rooms where the body of Abraham Lincoln was placed as his funeral train made its way to Illinois. I shared that bit of history with Dave and his wife, Renee.
We talked about the future. Dave invited me to visit him in Wisconsin this summer. He was working on some exciting projects, he said.
That was Dave. He was a driven, restless, creative leader.
As an industry, we must find a special way to remember him. But for now, our thoughts and prayers are with Renee and the Young family. May God's grace and comfort be with them all.