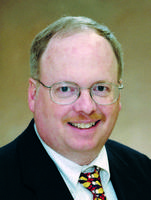 Sealy CEO delivers message: Don't count this company out
May 30, 2012
Larry Rogers and I wrapped up our talk the other day, one that covered ground no Sealy leader had faced in four decades: Sealy's fall from the top spot in the U.S. mattress market.
Now the gracious Rogers was walking me out to my car at Sealy's headquarters in Archdale, N.C. The friendly receptionist gave him a weather report as we neared the door: A storm was in the forecast.
Considering our discussion, I wondered if that was an ill omen. But Rogers had an optimistic outlook. Despite receiving the sobering news that Serta had unseated Sealy last year atop the domestic mattress industry, Rogers saw plenty of opportunities ahead for Sealy.
He acknowledged that Sealy was "disappointed" to learn that Serta has risen to No. 1 in Furniture/Today's U.S. mattress rankings. But, in the next breath, he asserted that Sealy remains No. 1 - on the worldwide stage. "It is important to remember," he said, "that we continue to be the No. 1 global bedding producer, with sales of $1.9 billion in 2011, including our company-owned international operations, licensees and joint ventures."
He offered congratulations to Serta on its achievement, but suggested that producer shouldn't get too comfortable in the No. 1 spot. "This is a strong company," he said of Sealy. "People would be wrong to count it out."
Rogers said Sealy had held the No. 1 domestic sales ranking for at least 30 consecutive years. "That's quite a tremendous record. Even the best runner slips once. We'll see what happens," he said.
Rogers has been at Sealy for all of those three decades and he's a big believer in Sealy's growth prospects. He cited numerous reasons for his optimism, among them Sealy's new Optimum gel memory foam line, which is off to a strong start on retail floors, he said. And the Stearns & Foster line is a strong performer too, he added.
Rogers, who has announced his retirement as CEO, said he remains focused on boosting Sealy's business. A search firm is looking for his successor and Rogers described that search as "very active." But he said he remains fully engaged in all facets of Sealy's business.
"I haven't made any plans to pack my bags," he said. "I'm working 75 hours a week. Don't think that the lights are out in this office." Noone has ever accused Rogers of not being a hard worker.
He said he wished he could remain at Sealy long enough to recapture the domestic sales crown, but otherwise voiced few regrets in our hour-long interview. His mission that day had been to make the case that good things lie ahead for Sealy. He made that case with calm professionalism.
Time will tell if he is right.