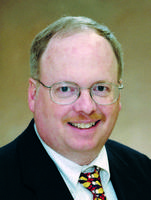 Ad plans, new showrooms among High Point highlights
May 9, 2012
Some things I learned in High Point:
Market went well. Reports on market business varied, as usual, but the majors were pleased. I did hear more complaints about the Saturday opening, which was quiet in some bedding showrooms.
It's tough to read the mattress tea leaves. I heard several reports about strong first-quarter business, but that was tempered with reports of a slowdown in April. Some observers believe an overall industry slowdown may be under way, but others said it's too early to make that call. Put Restonic President Ron Passaglia in that second group. "One month doesn't make or break the industry's prospects for the year," he said. Good point, Ron.
Complicating the tea-reading picture were those March Bedding Barometer results issued as market came to an end. They showed unit sales heading sharply down, with a 4.1% decline. That's quite a turnaround from the 18.6% unit gain in February. So are we up or down? You tell me.
National advertising campaigns were in the news. Sealy finally provided a dollar figure - sort of - for its national ad campaign, of $30 million on an annualized basis. The producer won't spend nearly that much, as national TV spots won't be running all year, but a $15 million campaign (my estimate) would still be a notable move on Sealy's part. Inexplicably, Sealy did not make a big deal about its ad spend at market. That was a missed opportunity.
And speaking of national ad campaigns, Simmons had a nice media room in its showroom where it highlighted its own aggressive national advertising plans, which appear to be about on par with Sealy's. Well done, Simmons.
New showrooms were in the news. Top 10 bedding producer Therapedic and latex supplier Pure LatexBliss both moved into new, bigger showrooms in High Point, and independent Southerland joined the market mix.
Here's a picture of the ribbon-cutting for the Therapedic showroom in the IHFC, where most of the bedding exhibitors are housed, with the company's Norman Rosenblatt and Gerry Borreggine, and Julie Messner of International Market Centers
We liked the open layout of the Pure LatexBliss space. Kurt Ling and his team decided to ditch the desk out front, creating an inviting showroom atmosphere.
There were some interesting new products and programs. Serta's iComfort pillows are comfy. I like what Jamison is doing with its gel program. Gold Bond's new beds are impressively packed with coils. Therapedic introduced three new high-end beds and also revived its MediCoil brand, now featured on value-priced offerings.