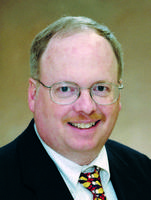 Rick Hooker finishes his race
May 3, 2012
Rick Hooker was laid to rest on a fine spring Carolina day with the sweet smell of honeysuckle in the air. The veteran bedding executive, whose hobbies included driving race cars, finished his earthly race with dignity. It was a race he ran with class, good cheer and professionalism.
Hooker, who died April 26 at 69, spent 25 years at Hickory Springs, where he retired in 2001 as national sales manager of the Bedding Products Division.
He is remembered for the strong relationships he forged with customers. "If he shook your hand, that deal was as good as gold," remembered Gerry Borreggine, the Therapedic CEO who worked with Hooker for 15 years.
Graveside services were held for Hooker May 2 at Forest Hill Memorial Park in Lexington, N.C., where he lived earlier in his life.
Sometimes we don't salute the real heroes in our industry, but Hooker was fortunate to receive recognition late in his career. In 1998 he received the Robert MacMoran Memorial Award given by the Suppliers Council of the International Sleep Products Assn. I was among the many well-wishers who shook his hand that happy day.
Now we all mourn the loss of a true gentleman and a quiet champion for his customers' bedding needs.