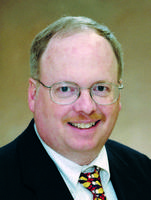 New Vegas restaurants show importance of retail experience
March 7, 2012
Looking for some intriguing lessons on the power of the retail experience? Look at two new restaurants in downtown Las Vegas.
We caught a glimpse of these eateries during the recent Las Vegas Market. We like to stay in downtown; the proximity to the World Market Center is a big plus and the Golden Nugget is a gem on the downtown scene.
During our nighttime explorations of Fremont Street we found Oscar's, a new steakhouse at the Plaza, and the Heart Attack Grill at the Neonopolis, a shopping center a few blocks away. Each adds something unique to the Vegas restaurant scene. Considering the incredible array of Vegas restaurants, that is no small feat.
Oscar's pays tribute to former Las Vegas Mayor Oscar Goodman, a supporter of the World Market Center project. Oscar's features "Beef, Booze, Broads." The "beef" and "booze" are self-explanatory, but the "broads" set the place apart.
Here's what the restaurant says about them: "These attractive women will be dinner companions who can discuss subjects such as politics, sports, wine, Las Vegas history or things to do downtown or on the Strip. When not dining with customers, they will roam the restaurant as hostesses, adding to the glamorous and uniquely Vegas style of Oscar's."
What do you suppose those ladies think of the body impression problem we have in the mattress industry?
The Neonopolis is just beyond the Fremont Street Experience canopy that starts across the street from the Plaza. There the new Heart Attack Grill serves up burgers, fries and milk shakes in a hospital-themed setting. An ambulance is parked out front and the waitresses are dressed like nurses. Orders are called prescriptions.
The prescriptions here are for high-calorie foods, ranging from Single, Double, Triple or Quadruple Bypass Burgers to Flatliner Fries cooked in pure lard. The diners - "patients" - wash those goodies down with butterfat-laden milk shakes or soft drinks made with real sugar. "Taste ... worth dying for!" is the tag line of this restaurant.
Now say what you will about these newcomers on the Vegas scene, but you have to admit they both offer catchy twists to traditional restaurant offerings. Oscar's wraps itself in the personality of the quotable Goodman and gives the ladies - er, the broads - a seat at the table. And the Heart Attack Grill turns the negatives of bad foods into some positive PR by celebrating the very badness of those dishes.
My dance card was full in Vegas and I didn't dine at Oscar's or the Heart Attack Grill. But I do think they illustrate the power of giving consumers a memorable retail experience. And that's a lesson that we need to heed in the mattress industry.