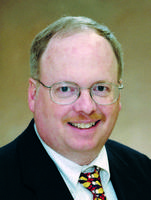 Comfort Solutions thinks big to launch new mattress lines
February 29, 2012
It's awards season in Hollywood, and in that spirit we present the award for best Las Vegas mattress showing to... drum roll, please... Comfort Solutions!
The Willowbrook, Ill.-based producer got the jump on its competition with a Las Vegas-style introductory event on Sunday night that was impressive in its scope and reach. We are talking elaborate stagecraft, comedy, lovely ladies, movie stars (on film), gourmet fare - and three new mattress collections to boot.
It was a memorable evening at the Paris hotel. A good crowd of 250 retailers, special guests and Comfort Solutions officials filled a ballroom.
Comfort Solutions President Dave Roberts and his team delivered a compelling launch of the new products, and also presented an overview of the company's direction under its new "Never stop dreaming" banner. "We are dreamers," Roberts said that night, "and we are doers. We are unveiling a new look, new products and a changing company."
A big new direction deserves a big sendoff, Roberts figured. And Comfort Solutions did things in a big way that night, from the cocktail reception with an elaborate ice sculpture to the introduction of the three mattress lines, which were illuminated in spotlights when the stage moved aside to reveal a big showroom filled with the new beds.
In a nod to the presentations at auto shows, models on elevated platforms introduced each of the new lines: iMattress, Dr. Breus and King Koil. The models followed carefully prepared scripts.
Later, Comfort Solutions officials and their vendors talked about programs designed to drive traffic to the company's dealers this year. This was an important part of the evening; good products are almost a given these days, but the supporting programs can make a big difference in how those products perform on retail floors.
Comfort Solutions is showing its heart with its association with the St. Jude Children's Research Hospital, promising to make a contribution to St. Jude with each mattress it sells. The St. Jude presentation provided an uplifting note on which the evening drew to a close.
Kudos to Comfort Solutions for dreaming up a major event like this, and for stealing the stage in Vegas from some well-known bedding producers who don't understand the critical importance of promotion.