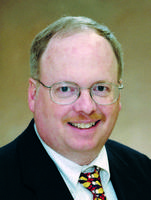 Gel boom adds excitement but also raises questions
February 22, 2012
Gel was swell in Las Vegas. The proliferation of gel-cushioned mattresses was one of the biggest developments at the market.
While this was understandable, given the remarkable success Serta has enjoyed with its iComfort line of gel-infused memory foam beds and the industry's interest in "new" bedding materials, the wholesale jump into gel bedding does give me some pause.
There is suddenly so much gel bedding in the market that retailers may well have a hard time sorting out the various claims that individual producers are making for their gel beds. It was interesting to us to see that so many claims of gel superiority were offered in Las Vegas, with no detailed test data to support those claims.
It's also worth noting that there are various thoughts on whether gel is an inherently cooling material or not. Some say it is - "Feel this," they say with a gel foam sample in hand - while others say it isn't, and maintain that gel must be used in an engineered sleep system to deliver a cooler night of sleep.
And for that matter, not every consumer wants to sleep cooler. Some are already sleeping cool and actually want to warm up in their beds. The variability of consumer preferences for "hotter" and "cooler" sleep points to the wisdom of touting sleep systems that help sleepers reach their optimum sleeping temperature, whatever that might be. Cooler is not better for every consumer.
These are some of the issues that the industry will need to clarify as the gel boom matures. But make no mistake: Gel bedding is hot ... er, cool.
There is an interesting debate in the industry about whether gel bedding is a new product category. I believe the answer is clear: It is. We already classify types of bedding by their key component - latex beds, airbeds, memory foam beds, etc. - and gel beds should be no exception to that. Yes, many of the gel beds feature gel-infused memory foam, and could thus be considered a subset of the memory foam segment. But that's drawing too fine a line, we think.
Gel beds are a logical product category and consumers already have some understanding of gel as a material. It makes sense to introduce the beds to consumers as a category on retail floors. I don't understand why we would want to simply relegate gel to a component. That takes away a consumer hook. And we need more ways to connect with consumers, not fewer.
Now that retailers have been introduced to all of these new gel lines, it will be interesting to see how they incorporate those lines into their product presentations. There will be winners and losers in this battle. Business this year won't be strong enough to lift all of those new gel-bottomed boats that bobbed in the bedding seas in Las Vegas. Or will gel take the industry to lofty sales heights this year? Stay tuned.