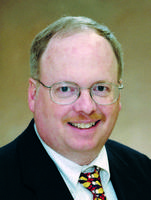 Bedding insider-vs.-outsider debate resumes
February 15, 2012
Kingsdown CEO Eric Hinshaw recently restarted a long-running discussion in the industry about the merits of bedding insiders versus bedding outsiders.
Hinshaw was commenting in a press release on Kingsdown's promotion of Frank Hood, a former Quiznos and Krispy Kreme executive, to the president's post. He succeeds Bob Hellyer, a bedding veteran who left Kingsdown after just one year in the president's post.
Here's what Hinshaw said:
"When you look at the sleep products industry today, the successful brands are ones being led by people from outside the industry who are able to bring a fresh and new perspective on how we present ourselves to the consumer. Frank is one of these people. His background in technology and experience in implementing strong marketing programs at Quiznos and Krispy Kreme have given us enormous insight on how we can continue to grow our company and brands."
Hood is a bright executive with a good future in our industry and deserves a nice introduction to his new job. But Hinshaw has overstated the case for the outsiders, in our view.
Yes, bedding outsiders grew Select Comfort and Tempur-Pedic to the powerhouses that they are today. But some of those outsiders have been around so long by now that they are actually insiders.
It's pretty obvious that executives from inside the industry have built and are running successful bedding brands. In fact, long-time bedding veterans are running most of the major bedding brands these days.
As we reflect on the insider-versus-outsider debate, we can think of bedding insiders who failed key tests, and we can also think of bedding outsiders who failed to make the cut in our industry.
We are certain that the bedding industry is not as simple as some of the outsiders seem to think it is. But we are a big enough industry to welcome bright new leaders with fresh ideas. And in that spirit we welcome Frank Hood to bedding's presidents' club, filled with a very large number of bedding veterans.