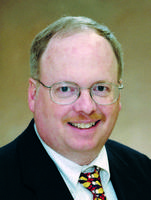 What's new in bedding? See our Vegas preview
January 25, 2012
It's one of my biggest projects of the year, and one that deserves careful study. It is, quite literally, your guide to what's new and notable at the Las Vegas Market.
I'm talking about the bedding entries on the Las Vegas product introduction charts, which start on page 26 of our 23 Jan. print issue. They outline the new mattresses and sleep accessories that will be offered by three dozen companies who shared that information with us.
To pique your interest in those charts, and to begin my own analysis of noteworthy bedding trends, I call your attention to a group of companies aiming to find a niche or deepen an existing presence in the U.S. market. European bedding companies have some unique offerings in Las Vegas.
Take Britain-based Vi-Spring, for example. The venerable producer's new Shetland Superb line is packed with wool from the Shetland Isle. Looking for a real selling story? Check out that line, featured in World Market Center C-184. The showroom, operated by Ergo Bedroom, also highlights attractive new adjustable beds by Carpe Diem of Sweden, another nice high-end bedding line.
Dormeo, with a number of European locations, brings its Octaspring line of foam springs to the U.S. market. The company, showing in WMC C-1350 and in WMC C-435, says the foam springs, offered in pillow and mattress designs, are "the biggest innovation in the mattress industry in 20 years." It will be taking its story to U.S. consumers with a television campaign early this year, part of its efforts to build a global brand.
Spain-based Spaldin touts a natural bedding story with its line of beds, shown in WMC A-940. Spaldin has some interesting bed designs. It seeks partnerships with retailers and manufacturers.
You will find entries on Vi-Spring, Carpe Diem, Octaspring and Spaldin in the charts.
You will also see that some new merchandising and marketing programs will be introduced in Las Vegas later this month.
Fabrictech International, for example, has a full marketing program to support its new PureCare Plush Pillow line, including new point-of-purchase displays. It shows in WMC C-1532.
And Wright of Thomasville, showing in WMC B-1062, is offering new budget top-of-bed display programs, and also is introducing headboards and other point-of-purchase displays that bring light and sound to retail floors. Those displays can definitely add excitement to staid mattress showrooms.