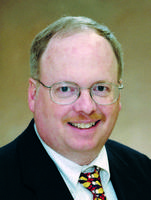 Sudden death leaves lesson
December 16, 2011
Larry McKay had a great conversation with his good friend John Clark. In that wide-ranging talk, Clark said he thanked God for his family, his friends, and his new job at bedding producer Southerland. He was in a great mood, McKay recalled.
And the next day John Clark, 57, a devoted family man, a friend to many, and an experienced mattress salesman, died of an apparent heart attack.
Larry McKay, a sales representative with Protect-A-Bed, was stunned to get the news. But he was also thankful that he and John had had such a good conversation, one that Larry will always remember.
"He was so happy," McKay recalled of that final talk with Clark. "Life couldn't have been better for him. He loved his job at Southerland. Everything was going so well for him."
But life sometimes takes cruel turns.
"Tomorrow is not guaranteed to anyone," McKay said, reflecting on Clark's sudden death. "You have to live for the day."
And that is the lesson I will leave with you as the final days of the year tick away. Enjoy those special moments with your friends, family and colleagues over the holidays and remember that life is a precious gift that comes with no guarantees.