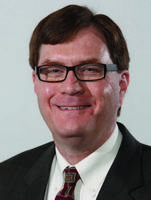 Smith nixes Black Friday insanity
December 16, 2011

If there was a Heisman Trophy for CEOs, my vote would go to Alex Smith, who has led retailer Pier 1 Imports since February 2007.
But my support is not because Pier 1 has recorded nine straight quarters of same-store sales gains, and it's not because merchandise margins hit a stratospheric 60.5% in the fiscal third quarter that ended Nov. 26.
I'm a Smith fan because he is refusing to allow Pier 1 to follow this insane trend of opening stores in the wee hours of the morning on Black Friday - or in some cases, late on Thanksgiving Day.
Smith believes it's important for his employees to relax and spend time with their families on Thanksgiving. What a concept! Are you listening Best Buy? Are you listening Wal-Mart?
"We believe it is very important to respect the time our associates and their families have with each other during one of the small number of days our stores are closed during the year," he said during a Thursday conference call with securities analysts. "Our view is that the holiday season is a marathon, not a sprint. Although the Thanksgiving weekend is important and a great psychological boost if it goes well, as a percentage of the holiday season it is quite modest."
Smith went on to say the company had a 10% same-store sales gain during the three-day Thanksgiving weekend, even though its stores didn't open until around 8 a.m. in most markets.
"Our customers are really not going to get up, miss breakfast and run into our store. That's just not the way our customers are," he told analysts.
When one analyst questioned whether competitive pressures might force him to change his mind, Smith was adamant.
"We have no intention of extending our hours over that weekend. It just makes no economic sense," he said, noting that he's not convinced a mega-sale on Black Friday would improve the results for the overall holiday season.
"I think it's questionable ... if you take December in totality ... whether you really actually gain anything from it."
I couldn't agree more. I've never understood how getting people worked into a frenzy to buy heavily discounted products in the middle of the night is going to increase the bottom line.
As I was listening to that conference call, I thought I heard Smith's employees cheering in the background.