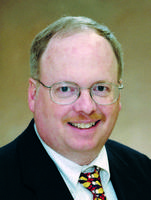 Protect-A-Bed picks up speed with big new headquarters
December 7, 2011
James Bell hopped in the driver's seat of the golf cart and set off for a quick spin through the cavernous warehouse at Protect-A-Bed's new headquarters. His partner, Clive Goldin, joined me in the back seat as Bell pointed out the impressive rows of racks stacked high with Protect-A-Bed mattress and pillow protectors.
As Bell zipped along a straight stretch on the far side of the warehouse, I realized that was the perfect image for a company picking up speed in the mattress marketplace.
Bell and Goldin were joined by almost 300 of their colleagues and friends at Protect-A-Bed's big new facility in Wheeling, Ill., a Chicago suburb, for a special afternoon and evening of celebration, one that wrote another chapter in the ongoing success story of this fast-growing company.
Protect-A-Bed slipped onto the U.S. mattress scene back in 2000, offering mattress protectors to bedding retailers. The initial reaction was not especially encouraging. Company founder David Kaplan recalled those early days as "a hard slog."
But Protect-A-Bed's executives are nothing if not determined, and they began to make headway. They soon outgrew their first tiny sales office. Then they outgrew their next office. And the next one. And the next one. And the one after that.
And that brought them to Wheeling, where they have plenty of room to grow - enough room, in fact, to expand the company to five times its present size.
The operation there consists of 20,000 square feet of office space and a 200,000-square-foot warehouse stocked with tall storage racks and sophisticated tracking equipment. Protect-A-Bed officials led tours of the facility and then hosted a ribbon-cutting ceremony that included Wheeling officials against the backdrop of huge storage bins filled with products waiting for shipment.
Several of the country's top mattress retailers, including Mattress Firm, The Sleep Train and Back To Bed, among others, joined the festivities.
James Bell, a disciplined and focused executive who is the company's CEO, hosted the celebration, delivering a pep talk to the group that revealed his global ambitions for the company: "Every day that we wake up we have one mission: To educate the world that every mattress needs protection. In so doing, we are creating a 'Healthy Sleep Zone.'" That is a reference to the dry, hygienic, bed bug free and anti-allergy environment that Protect-A-Bed promises to deliver to consumers.
I've watched this company over the years help put the sleep accessories category on the industry's radar. I've been impressed with the quality of the organization's people and their enthusiasm for their company and their mission.
Spirits were high in the new Protect-A-Bed headquarters on a cool autumn evening when the company took another big step toward a future of even more growth.