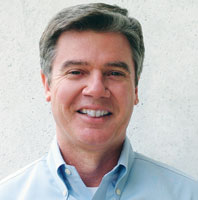 A clean takeaway
May 10, 2011

The Home Furnishings Industry Conference this month in San Antonio was a treasure trove of information and ideas on everything from social media to how to identify and target diverse consumer bases.
But I kept coming back to one great takeaway in particular: I can't wait to try this new laundry detergent I discovered there.
Phoenix A.M.D., a home furnishings protection and service supplier and one of the conference's many sponsors, was touting among other things its Excelsior HE liquid dishwashing and laundry detergents, and it didn't take much to reel me in. First, you only need about a shot glass full of the laundry detergent, for instance, and you could throw away the bleach and the fabric softener. You don't need them anymore.
So while it may cost a little more that the average laundry detergent, you save by getting rid of all the extra cleaning products, plus it cleans better, according to Phoenix A.M.D. President Albert Marrache, and it's not harmful to the environment.
What does any of this have to do with furniture? Everything, Marrache said, if only retailers could recognize it. Laundry detergent isn't just for the home furnishings store that's also selling washing machines. If you sell mattresses, if you sell pillows and top of bed, you could be bringing that customer back into the store with a laundry detergent that not only knocks their socks off, but cleans them like nobody's business.
I didn't have to go far to find one fan at the conference - Sherry Sheely of Sheely's Furniture & Appliances in North Lima, Ohio. She tried Excelsior HE before she began stocking it, and she's a convert. Her clothes, she said, even feel better and cleaner now, without the soapy residue that other detergents can leave on fabric and in machines. Does Sheely think a furniture store that doesn't sell appliances like hers could be as successful with laundry detergent? Absolutely, she said.
Unfortunately, this industry often does a pretty lousy job of taking advantage of the customer that's already in the store by playing up these kinds of add-on sales, Marrache said. (For the record, he added that Furniture/Today doesn't give the segment enough attention, either.) Yet it's these kinds of items - sheets and fabric protection and home accents packages and detergent - where the juicy profit margins often come in.
We need to focus in on that customer, making the most of their time in the stores, he said, even offering it as his idea in a best-ideas session at the conference. Some of these add-on products are also the kinds that keep customers coming back on a regular basis to see what's new or maybe to refill their environmentally friendly laundry detergent bladders at a nice discount off the first-time price.