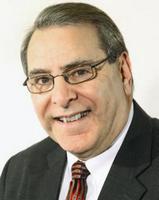 Remembering my friend, Hershel
November 29, 2010
Hershel Alpert, shown two years ago at his desk in New Bedford, Mass., stayed active as an industry consultant after selling his store.
With the recent passing of veteran retailer
Hershel Alpert
, the industry lost an incredible resource and I lost a very special friend.
The timing of this sad event, in close proximity to our annual Leadership Conference, is especially significant to me.
I joined Furniture Today about 15 years ago late in November. In fact, my first day on the job found me in not in our editorial offices in North Carolina, but in California, which is where Furniture Today was holding the conference that year.
I found myself surrounded by other people on the paper who-- over time-- would become my friends. But on that particular day, I was definitely the new kid. To make things more interesting, I had been hired away from the competition and my intuition told me I was probably not the most welcome addition to the paper on that day.
Not only did I feel like a fish out of water, but I must have looked like one as well.
Standing in a room filled with everyone who seemed to know everyone else, I suddenly felt a tap on my back. I turned around and found myself face to face with Hershel.
Shaking my hand, he said, "Hi. I'm Hershel Alpert and I run Alpert's. This is my lovely wife, Barbara. You're the new guy, right? Come and sit with us."
With those simple words, Hersh was the first person to welcome me into this often crazy fraternity called home furnishings.
To be honest, I don't fully remember everything we talked about that night. But there are a few things I know I will never forget.
One of them is the way his eyes lit up every time he spoke to Barbara. You didn't need ESP to realize these two were soul mates.
Ditto for the light that came on when he talked about the business. Hersh loved this business and it showed. In a highly competitive market, he and his sidekick, Bert Tassell, not only ran a tight ship...they ran a profitable one as well.
A few years back, the government of Poland asked Furniture Today to select a group of retailers who could visit that country and provide objective input to local furniture manufacturers hoping to export their goods to our country.
The first guy I reached out to was Hersh. He graciously accepted along with executives from Rotmans, Kacey Fine Furniture, HOM, Walter E. Smithe and Louis Shanks .
I'll never forget that trip, especially how much I learned about furniture from 'Professor Alpert.'
If you knew Hershel, you knew what a remarkable guy he was and what an incredible list of credentials he carried with him.
But for me, his greatest gift was his generous gift of friendship.
I'll miss you, Hersch. Give Barbara a kiss for me, will you?