Retail Ideas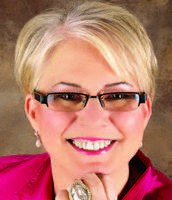 #HPmkt and the Thank You Economy
October 15, 2010
The world is converging starting Saturday, Oct. 16th, as more than 85,000 people from around the world converge on High Point, North Carolina for the start of the world's largest furniture wholesale furniture tradeshow-High Point Market.
With over 2000 exhibitors represented in 188 buildings containing over 12 million sq. feet of showspace and hundreds of thousands of new product introductions, @HPMarketNews is THE market for serious buyers and interior designers from around the world. ( By the way, if you need help, Cheminne Taylor-Smith , the new Director Of Marketing for High Point Market Authority, which oversees all the marketing for all of the buildings, can help you. )
Now, are you already thinking that I have been paid to say the above, that High Point market is a client or to promote High Point Market in exchange for some *underground* favor of some sort? Nope.
So, why the comments? They were inspired by the title of a new book called *The Thank You Economy* that Gary Vaynerchuk (@garyvee on Twitter ) -major Internet celebrity, speaker, author of the bestseller, *Crush It* has coming out early next year. I recently saw Gary speak. He captivated me with the idea of the Thank You Economy. I am seeing how saying thank you in the online communities where I am an active participant ,in ways that help the OTHER persons' business, is, already, massively impacting people's business and professional opportunities.
I believe, along with Gary, that knowing how to say thank you , WELL , is going to be THE key differentiator for every furniture retailer, designer, manufacturer, supplier, rep, etc. participating in online conversations via social media channels. The golden rule still rules- but even more so, online.
Hence, my promotion of High Point market in the first two paragraphs. Why? Because it is the ecosystem of the people around High Point who first supported The Kaleidoscope Partnership when I founded it eight years ago when I was new, knew no one and was so nervous. People like...
Sara Lyke, executive director of @WITHIT - a leadership organization for female professionals in the home industries. You, Sara, took me under your wing, mentored me, introduced me to key contacts and showed me the ropes. Thank you forever. The 150.00 I invest every year to be a member of WITHIT is a pittance compared to the more than 123,456.00 in revenue the connections I have made through WITHIT have brought in for TKP. I have two words for everyone reading this : JOIN NOW at http://withit.org.
And people like, Ray Allegrezza, the editor in chief of http://furnituretoday.com (@FurnitureToday ) the world's leading newsmagazine for the furniture industry. Thank you, Ray, for giving me the opportunity 6 years ago to write this online column as a way to get the word out about TKP. You have encouraged me -in ways large and small- throughout the past six years. I appreciate all you have done for me and am still happy to write this column, now, for free, as a service to others in the industry who are just now coming to understand the power of social media to help their businesses create profits.
And my new business partner, Sev Ritchie. (@tkpsev ) It was Sev, as the first male to ever be on the Board of Directors of WITHIT, who showed me that men were truly willing to help women in what has been a traditionally male dominated industry. It was with such joy that I received his "Yes* when he agreed to become my formal business partner this past June. Thank you, Sev!
And, now, I would like to thank four people that I now know face to face (but met first through Twitter ) who have helped me and/ or our clients the most and who will all be here at High Point Market.
Thank you, @MaybellineTe. As a young leader in our industry and the creative director and co-owner of manufacturer @SNUGfurniture debuting in Interhall 611, your support of my work and the projects we are involved in on behalf of our clients has been nothing short of phenomenal. I wish you the BEST of luck on the debut of http://SNUGfurniture.com
It was a huge media and design blogger success story when you showed it at ICFF in NYC in preparation for this larger launch and I hope the world gets a big SNUGHUG when they get to know your genuine, sparkling, fun and truly creative personality and.... I hope @HGTV is reading this!
Thank you, Jacob Harlow, owner of @thecenturyhouse: http://thecenturyhouseinc.com in Madison, Wisconsin. As one of the premier eco responsible retailers in the country (selling lines like Knoll, Herman Miller , Hastens, Blu Dot ) you have been an invaluable friend. Thank you for being one of the first retailers to listen, to adopt social media for your business and to use it so effectively to build traffic and sales. You are a young leader that everyone needs to know and emulate. And, even though you are shy by nature, I just have to wish you a very Happy Birthday next Tuesday, the 19th , here at market.
Thank you, Jeff Day of @TLSbyDesign owner of manufacturer http://tlsbydesign.com . Your support of our client, @BIOH4ALL, our business and of me is so appreciated. Your ability to meet a tight deadline at a reasonable price point for interior designers looking for customized capabilities in an all eco friendly upholstery product is a great USP. I know thatCT designer Gloria Battista-Collins, @gbcstyle , was truly happy with the work you did for her. I hope all find you at Showplace 1400 where you will be co-exhibiting in your own space alongside @JohnStrauss- master woodworker. I'm looking forward to clicking glasses with you to celebrate your first showroom at your tweetup 3-5 Monday!
Thank you, Wanda Horton @WandaSHorton, http://interiordesignbywanda.com. Your blog: http://interiorconceptsbywanda.blogspot.com is a MUST READ. You are the best I know at combining true design talent (as a working interior designer now in Charlotte, NC for the past 14 years) with an amazing ability to draw us in , through language, story and humor, to the importance of great design in our lives. I hope @tnturner3, EIC of @House_Beautiful, agrees if we can persuade him to peek at your blog and design work!
This Thank You Economy post would not be complete without thanking our great social media client for the past 2 years, Cargill 's BiOH polyols-makers of the soy ingredient that goes into foams made partially with soy to replace a portion of the oil based ingredient now being used. TY Nicole, @BiOH4ALL and Jess, @BiOH4ALLjk. It's great that Nebraska Furniture Mart, HOM Furniture, Furniture Land South, Circle Furniture, The Century House and others fine retailers are now sharing your BiOH brand message on their sites with their customers in order to educate them even further on the upholstery, sofas and couched they already have on their floors that contain your soy ingredient in the foam.
You have been leaders in educating the furniture industry about sustainable options and in using social media to do so on http://experiencebioh.com and with the group you run on Linked In called Sustainable Resources For Furniture Manufacturers, Retailers and Suppliers.
Lastly, it has been a pleasure working together with @LeslieNewby, President of Brand Communications (and your PR agency of record) on your latest effort to showcase that sustainable design is beautiful design: #Project UDesign!
It is my hope that, YOU, dear readers, if you are at #HPMkt, will come see the #ProjectUDesign gallery in Century Furniture 's showroom view the blogger/student video done by @brandonpierce and @dhatfield of @ExpFarm and....
most importantly, visit http://facebook.com/BiOHFans to choose YOUR favorite eco wing chair design from the crowd 's 3 finalists before 11:59pm on Tuesday night, Oct. 19th!
YOUR winning student's eco wing chair design will be manufactured by Century Furniture for debut at the Spring 2011 High Point Market and put into Century Furniture's regular line up and your winning student will be paid royalties on all sales!
Please help one young student furniture designer's dream come true by sharing your fav chair with your friends on Facebook!
Your winner will be announced on Wed. Oct. 20th at the beginning of @WITHIT 's student mentoring day at 9am in the Century Courtyard and you can watch the fun afterwards as Furniture Land South (@FurnitureLandS) hosts the 3 finalists and your winner in their store later that day AND on Twitter and on Facebook for a chat and eco Q & A!
And now, is there anyone you would like to thank -someone who's really helped you or your business?
Please share them with all of us in the comments and have a GREAT market!