Mattress & Bedding Industry News
Bedding Today provides in-depth coverage of the American bedding industry, bed conferences and latest mattress news reports.
Bedding dealers hope to stay on roll at High Point Market

HIGH POINT - Retail bedding business has been strong this year, and retailers shopping bedding showrooms here are hoping to keep the momentum rolling. Bedding producers are obliging with a wide assortment of new products and programs. Not surprisingly, gel beds are in the middle of the action. More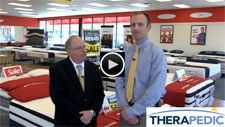 In this month's Retail Bedding Spotlight, bedding editor Dave Perry talks about Mattress Firm's commitment to give back to the communities it serves – a key element of the company's recent national leadership conference. He also interviews a Mattress Firm manager who attended the meeting. See video. Video reports are sponsored by Therapedic.
Bedding Today

David Perry

April 22, 2015

Bedding's big buying gap costs billions in lost sales

Something bad happened when consumers in 4,651,641 households shopped for bedding last year: Those consumers did not buy a bed. That's a massive buying gap that continues to bedevil bedding marketers. And it's a massive missed opportunity, costing the industry lost sales of about $3.8 billion, according to Furniture/Today research. Our market research, a hallmark of our bedding coverage, first found a major bedding buying gap many years ago. The buying gap — the difference between those who shop for a product and those who actually buy — is traditionally lower in bedding than in many ...

Special Order

Larry Thomas

April 22, 2015

Tempurs flare as meeting date nears

With the annual meeting of Tempur Sealy International shareholders less than a month away, the tension between the company and dissident shareholder H Partners seems to be increasing by the day. The two sides have been filling shareholders' inboxes and mailboxes with charts, graphs, financial tables and other materials supporting their points of view, and neither has been holding back on its opinions about the other side. "Tempur Sealy shareholders are suffering through sleepless nights," headlines a recent, 95-page presentation sent by H Partners, an investment firm that owns about 10% of the company's shares and had called for ...
All Bedding Today Blogs

Bedding Editor David Perry continues his new eBedding series by looking at online tools for sales associates. See what Casper does to appeal to Millennials.