Mattress & Bedding Industry News
Bedding Today provides in-depth coverage of the American bedding industry, bed conferences and latest mattress news reports.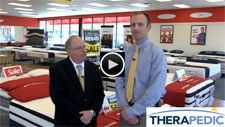 In this month's Retail Bedding Spotlight, bedding editor Dave Perry talks about Mattress Firm's commitment to give back to the communities it serves – a key element of the company's recent national leadership conference. He also interviews a Mattress Firm manager who attended the meeting. See video. Video reports are sponsored by Therapedic.
Bedding Today

David Perry

May 28, 2015

Mattress displays matter, consumer study confirms

Our recent story on a study of mattress displays has sparked an outpouring of reader interest. The story, published in our May 12 Retail Giants of Bedding Supplement, has been widely shared and discussed in the industry, for good reason. It makes several important points. The executive summary: Looks matter. Yes, that sounds obvious, but you would be surprised at how many retailers continue to offer up unappetizing, bland mattress displays, and then wonder why their bedding business isn't better. The study, commissioned by mattress display specialist Colonial LLC of High Point, provides solid evidence about the importance of ...

Furniture Everyday

Bill McLoughlin

May 26, 2015

You might want to stay awake for this...

I recently returned from the Furniture/Today Bedding Conference where I learned, among other things, I don't get enough sleep. Speaker James Maas, a renowned sleep expert, listed six factors, the presence of any two of which are indicators of sleep deprivation. I nearly jumped up and yelled "Bingo!" having hit 'em all. Not that this is surprising. According to Maas, 71% of people don't get the recommended 7.5 - 9.25 hours per night and 75% of people experience a sleep problem at least three nights a week. The event's closing panel came back to this ...
All Bedding Today Blogs

Bedding Editor David Perry continues his new eBedding series by looking at online tools for sales associates. See what Casper does to appeal to Millennials.