Mattress & Bedding Industry News
Bedding Today provides in-depth coverage of the American bedding industry, bed conferences and latest mattress news reports.
Bedtime stories a hit at Vispring

HIGH POINT - "50 Shades of Grey" hooked up with a Vispring luxury sleep set at the High Point Market in a sexy vignette that created a buzz in the Vispring showroom. More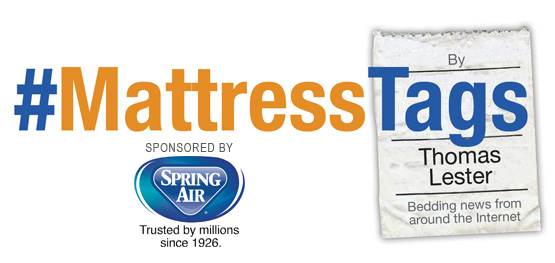 #MattressTags, from editor Thomas Lester, takes a new approach to bedding, bringing you unique, offbeat and at times humorous news that might not make the headlines but that we think is important to business and the people who conduct it, nonetheless... Our hope is to inform, enlighten and maybe make you smile. Read the latest! Sponsored by Spring Air.
Bedding Today

David Perry

November 25, 2015

In the shadows of bedding giants, Tier Two players find success

Lately I've been hearing surprisingly positive news from Tier Two bedding producers. They are reporting that there is life in the shadows of the bedding giants. Bedding's Big Four — Serta, Sealy, Simmons and Tempur-Pedic — command 70% of the market, boast plenty of marketing firepower, and possess the industry's best-known brands. They have been gaining share in recent years. But some smaller bedding producers are finding paths to success on this highly competitive bedding landscape, three of them told me in recent meetings and interviews. He said Therapedic is winning with its consistent promotion of its "No. 1 ...

#MattressTags

Thomas Lester

November 24, 2015

#MattressTags: Banish the blue light?

How to beat the blues By now we've all heard how bad blue spectrum light is for sleep preparation, yet millions of us wind down at night in front of the TV (which, by the way, emits its share of blue spectrum light). Saffron, a company that specializes in sleep-oriented smart lights, is introducing Drift, a product that connects to the television and reduces blue spectrum light an hour before you tell it you want to go to sleep. This is your brain without sleep Last week, ABC News' Dan Childs went 40 hours without sleep - all live on ...
All Bedding Today Blogs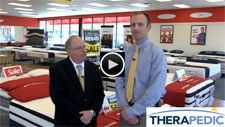 In this month's Retail Bedding Spotlight, bedding editor Dave Perry talks about Mattress Firm's commitment to give back to the communities it serves – a key element of the company's recent national leadership conference. He also interviews a Mattress Firm manager who attended the meeting. See video. Video reports are sponsored by Therapedic.