Mattress & Bedding Industry News
Bedding Today provides in-depth coverage of the American bedding industry, bed conferences and latest mattress news reports.
Porsche bridges bedding, auto industries

ORLANDO, Fla. — The sales tickets for their products may be thousands – or hundreds of thousands of dollars – apart, but the bedding and automotive industries share several similarities, a leading business consultant said here. More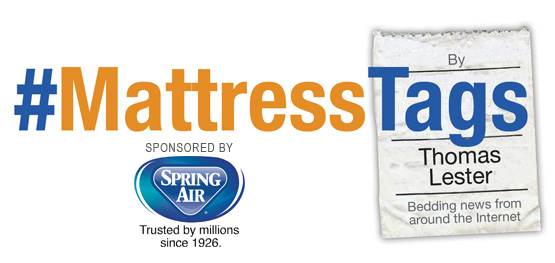 #MattressTags, from editor Thomas Lester, takes a new approach to bedding, bringing you unique, offbeat and at times humorous news that might not make the headlines but that we think is important to business and the people who conduct it, nonetheless... Our hope is to inform, enlighten and maybe make you smile. Read the latest!
Bedding Today

David Perry

June 24, 2015

Definition of hybrids needed to expand ISPA stats program

It is time to define hybrid sleep sets. Everyone knows that those types of beds, which combine innersprings and specialty foams, are selling well these days. But what, exactly, constitutes a hybrid? There is, unfortunately, no consensus on that tricky question. Some say hybrids are smooth-topped sleep sets, while others say their hybrid offerings include quilted mattresses. Some say hybrids feature only encased coils, while others say hybrids can also utilize open coils. Some say hybrids are half coils and half foam, but others disagree. The issue of what constitutes a hybrid is an increasingly important one, as the bedding ...

Bedding Today

David Perry

June 18, 2015

Tempur-Pedic, Select Comfort outperform their larger rivals

Call it the Return of the Specialty Sleep Powers. Furniture/Today's latest ranking of the Top 15 U.S. Bedding Producers reveals that Tempur-Pedic enjoyed a spectacular year in 2014, outperforming all of its rivals among bedding's Big Five – Serta, Sealy, Simmons, Tempur-Pedic and Select Comfort. And not too far behind was Select Comfort, the airbed producer and retailer. Tempur-Pedic boosted its bedding shipments 16.4% last year, followed by Select Comfort, which posted a 10.2% gain in its bedding shipments. Serta maintains its comfortable hold on the top spot on the list, posting a 7.2 ...
All Bedding Today Blogs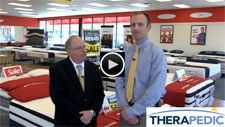 In this month's Retail Bedding Spotlight, bedding editor Dave Perry talks about Mattress Firm's commitment to give back to the communities it serves – a key element of the company's recent national leadership conference. He also interviews a Mattress Firm manager who attended the meeting. See video. Video reports are sponsored by Therapedic.