Mattress & Bedding Industry News
Bedding Today provides in-depth coverage of the American bedding industry, bed conferences and latest mattress news reports.
Bedding Today

David Perry

March 3, 2014

Bedding Conference adds mojo with Magowitz

We will be helping retailers make more mojo at our upcoming Bedding Conference. Yes, mojo is a good thing, something that all successful retailers must possess. It's the power that allows individuals and companies to be at the top of their game. "Making Mojo at Retail" is the theme of the conference, set for May 14-16 at the Omni Orlando Resort at Championsgate, Fla. We are pleased to announce that we are partnering with the Seena Magowitz Golf Classic at our conference. The Bedding Conference runs from Wednesday, May 14, through the morning of Friday, May 16, and the ...

Bedding Today

David Perry

February 26, 2014

Specialty sleep sank in 2013 but can bounce back

Something extraordinary happened in the specialty sleep arena last year. For the first time since the International Sleep Products Assn. began breaking out innerspring and specialty mattress figures (in 2004), specialty sleep mattress units and dollars declined in a non-recession year.And for the first time ever, the innerspring category grew in units and dollars when the specialty category declined. We do need to add a qualifier here. Those record-shattering trends are based on preliminary figures for 2013 recently released by ISPA. Final figures won't be available for a few months. But we would be greatly surprised if those ...
All Bedding Today Blogs

How did you sleep last night? That's a good opening question when a retail sales associate welcomes a customer into his or her mattress department or mattress shop.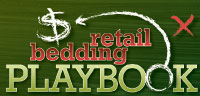 Down time is good time for phone selling, training
AVENTURA, Fla. - Most mattress retail sales associates have at least an hour of down time in a typical work day, a survey of RSAs done for Leggett & Platt reveals.