Mattress & Bedding Industry News
Bedding Today provides in-depth coverage of the American bedding industry, bed conferences and latest mattress news reports.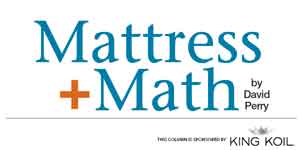 Follow David Perry's latest blog series on the numbers behind the mattress industry. This week he looks at consumers' top sleep strategies Click here to read! Sponsored by King Koil.
Bedding Today

David Perry

October 17, 2017

High Point introductions: 5 ways to boost business

The fall High Point Market, a personal favorite of mine (more on that later), is now open for business. Here, culled from the list of bedding companies showing their wares in High Point this week, are five business-building ideas you should consider: 1. Expand your commitment to better bedding. Shifman Mattress, the New Jersey-based producer that focuses on the high end of the market, has revamped its Masters collection, which touts natural materials and handcrafted quality. Another high-end company to consider is Vispring, the Plymouth, England-based producer, which is debuting new Italian designer fabrics here and is showing a premium ...

Mattress Math

David Perry

October 11, 2017

3 key demographic groups and their mattress-buying habits

6.6 and $726 This is the expected mattress replacement cycle in years for consumers between the ages of 18 and 35, and the price that consumers in that age group are willing to pay for a queen-sized mattress. Why it matters: This is a good news/bad news scenario. The good news is that younger consumers, many of them Millennials, have much shorter mattress replacement expectations than older consumers, which could open the door to more frequent mattress purchases by those younger consumers. But there is a catch: Those younger consumers say they are willing to spend much less ...
All Bedding Today Blogs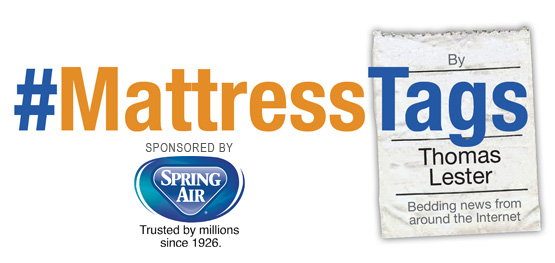 #MattressTags, from editor Thomas Lester, takes a new approach to bedding, bringing you unique, offbeat and at times humorous news that might not make the headlines but that we think is important to business and the people who conduct it, nonetheless... Our hope is to inform, enlighten and maybe make you smile. Read the latest! Sponsored by Spring Air.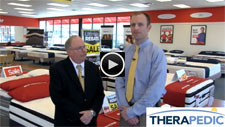 In this month's Retail Bedding Spotlight, bedding editor Dave Perry talks about Mattress Firm's commitment to give back to the communities it serves – a key element of the company's recent national leadership conference. He also interviews a Mattress Firm manager who attended the meeting. See video. Video reports are sponsored by Therapedic.