Mattress & Bedding industry news, features and analysis
Furniture Today provides in-depth coverage of the American bedding industry, bed conferences and latest mattress news reports.
Bedding Today

David Perry

March 3, 2014

Bedding Conference adds mojo with Magowitz

We will be helping retailers make more mojo at our upcoming Bedding Conference. Yes, mojo is a good thing, something that all successful retailers must possess. It's the power that allows individuals and companies to be at the top of their game. "Making Mojo at Retail" is the theme of the conference, set for May 14-16 at the Omni Orlando Resort at Championsgate, Fla. We are pleased to announce that we are partnering with the Seena Magowitz Golf Classic at our conference. The Bedding Conference runs from Wednesday, May 14, through the morning of Friday, May 16, and the ...

Bedding Today

David Perry

February 26, 2014

Specialty sleep sank in 2013 but can bounce back

Something extraordinary happened in the specialty sleep arena last year. For the first time since the International Sleep Products Assn. began breaking out innerspring and specialty mattress figures (in 2004), specialty sleep mattress units and dollars declined in a non-recession year.And for the first time ever, the innerspring category grew in units and dollars when the specialty category declined. We do need to add a qualifier here. Those record-shattering trends are based on preliminary figures for 2013 recently released by ISPA. Final figures won't be available for a few months. But we would be greatly surprised if those ...

Bedding Today

David Perry

February 19, 2014

5-year retail sales forecast calls for bedding growth

This week we shake off the pressing issues of the day and take a long-term look at where the mattress category is heading. The answer: to a pretty good place.The Retail Planning Guide that we published late last year contained a wealth of fascinating insights into markets around the country, and also included our forecasts of retail spending by furniture category for 2018.Yes, I know 2018 seems like a very far way away as we all get used to writing "2014" these days, but it is helpful to step back every now and then from questions about how ...
More
Out and about at the Casual Living Conference

From touring a retail store or playing a round of golf to attending cocktail parties with casual industry peers or learning more about the changing marketplace, professionals who took time to attend the third annual Casual Living Conference found time to squeeze in some fun. Change: The New Status Quo was the theme for the event, held Feb. 19-21 at Rosen Shingle Creek in Orlando, Fla.
View All Slideshows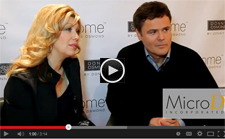 Join Furniture/Today as we interview manufacturers and retailers at the Winter 2014 Las Vegas Market. See the videos. Our video coverage was sponsored by MicroD.