High Point Market Show News
News, features and analysis of the Fall 2017 High Point Market, a biannual furniture trade show being held in High Point, N.C. Coverage includes updates on product introductions, style trends, business developments and strategies for growth.
Heading into Premarket with news around the industry

Between the impact of Harvey and Irma, other industry news continues to mount: Arterian buys Standard, and Labor Day sales prove challenge. Meanwhile, retailers weigh in being prepared for the rough weather, and Clint Engel provides an update on Jim McIngvale's relief efforts in Houston.  

See Video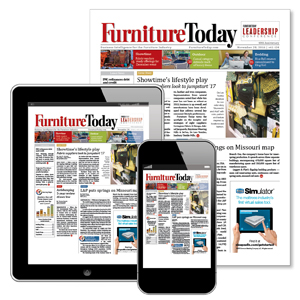 See the digital edition of Furniture/Today, which allows you to flip through the pages, click on any underlined area to visit a website or send an e-mail, search to find content in the magazine, or share pages with your friends. See the latest issue!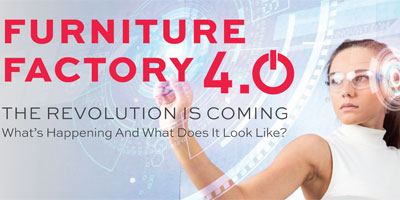 If you missed our recent webcast with Lectra on what the furniture factory of the future will look like, then you can click here to watch the recorded version. Topics include what trends and challenges are affecting furniture factories in the US & Worldwide and how these challenges are changing furniture production.
View Now!
Furniture Everyday

Bill McLoughlin

September 8, 2017

Market events more important as industry challenges mount

If the furniture industry is going to show meaningful growth this year it's only because determined and resourceful people are making the tough choices necessary to achieve in a difficult environment. With a few exceptions, this year's business has been challenging, and every gain has been hard-fought. And at no time has that been more evident than the last few weeks leading into High Point Premarket. The devastation visited on Houston and surrounding areas by Hurricane Harvey was among the most severe in U.S. history, chasing thousands of people out of their homes and confronting thousands with ...

Bedding Today

David Perry

May 9, 2017

Top mattress tweets in HP: MyPillow, RSAs, Bedgear

Traffic was light in bedding showrooms, but the Internet was humming at the recent High Point Market. I unleashed a torrent of tweets, more than 60 in total, and included short videos with about one-third of those tweets. A look at my Twitter analytics (a great tool) reveals these top mattress tweets, in order of impressions: "Quick chat with Pillow Prince Mike Lindell." This tweet was easily the top scorer, generating thousands of impressions and hundreds of engagements. The MyPillow CEO, a familiar face on television thanks to the company's heavy advertising campaign, was making his first visit to ...

From A Rep's Perspective

Mike Root

May 1, 2017

With a record crowd of almost 1,000 people, the Furniture Industry Awards Gala celebrated our great industry and the independent sales rep's part in it. With hundreds of reps in attendance as well as manufacturers and major retailers on Monday night of market, it was wonderful opportunity for IHFRA (International Home Furnishings Representatives Assn.) shine a light on the great value sales reps fill in the distribution network. Irv Blumkin from Nebraska Furniture Mart was recognized as the Retailer of the Year, and he spoke about how helpful reps have been to his company over the years. It ...
Next Conference

September 25, 2017 - September 27, 2017

Nationals Park

Washington, DC, US

High Point Market

October 14, 2017 - October 18, 2017

Downtown High Point

High Point , North Carolina , US

ABC Kids Expo

October 17, 2017 - October 19, 2017

Las Vegas, Nevada
More