High Point Market Show News
News, features and analysis of the Fall 2016 High Point Market, a biannual furniture trade show being held in High Point, N.C. Coverage includes updates on product introductions, style trends, business developments and strategies for growth.
Klaussner launching 'text-to-donate' campaign at Las Vegas Market to support City of Hope

In a move aimed at building support, awareness and donations for City of Hope, a world leader in cancer and diabetes research and treatment, Klaussner Home Furnishings is spearheading a first-of-its-kind text to donate campaign at the upcoming Las Vegas Market. More

ASFD announces call for Pinnacle entries

The American Society of Furniture Designers has announced their call for entries for the 2017 Pinnacle Awards. Submissions will be accepted through July 1. More

UPDATE: Is HB2 about to be repealed?

North Carolina Governor Pat McCrory has issued a proclamation calling the General Assembly into special session today, to consider repeal of the state law commonly referred to as HB2. More

IMC realigns sales and marketing teams

International Market Centers has realigned the responsibilities for its sales and marketing teams. The changes, which are effective Jan. 1, are designed to better serve cross-market customers. More

New Ridge to open High Point showroom

Ready-to-assemble furniture vendor New Ridge Home Goods has chosen a 1,700-square-foot space, 207-A in High Point's Centerpoint on Hamilton, as its first U.S. showroom. More

Video exclusive: Hekman continues trend toward clean-lined product

At the latest October High Point Market, Hekman Furniture continued to turn heads with its strategy of offering transitional leaning product. More

The Novogratz, Momeni team up for rug launch

Family informs much of the design of Cortney and Robert Novogratz. More

IMC refinances senior debt and revolving credit

Showroom operator International Market Centers has announced a refinancing of its senior secured debt and revolving credit facility. More

Business outstrips attendance in rug showrooms

While they're always going to want more buyers visiting their showrooms, rug producers at the Oct. 22-26 High Point Market couldn't say enough about the buyers who stopped by. More

Castelle revamps High Point, Chicago, Atlanta showrooms

Castelle announced that its Atlanta and Chicago showrooms will undergo renovations along with the most recent renovation of its High Point showroom. More

UPDATE: Pinnacle winners take the spotlight

The 2016 Pinnacle Award winners were named last week at the American Society of Furniture Designers' annual awards banquet. More
Next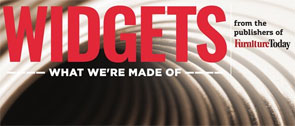 See our new publication Widgets, which is dedicated to the parts and pieces that make up the products your customers buy. This issue includes details about Hickory Springs, Leggett & Platt, Atlanta Attachment, Jones Nonwovens, Lectra, Saba and HFMSE. Get the latest!
Bedding Insights: Therapedic line makes music

Bedding Editor Dave Perry sports a rock star look for a market chat with Therapedic CEO Gerry Borreggine, who touts a new musically themed mattress line his group has introduced. (And don't miss the outtakes.)   (Video coverage sponsored by Symbol Mattress.)

See Video
Furniture Everyday

Bill McLoughlin

November 3, 2016

4 reasons you might not have had a good High Point Market

By most accounts the recent High Point Market was solidly attended. At least two exhibitors told me they had their best market in years. Another reported a 30% increase in retail showroom visits, and yet another said by Saturday his company had seen at least 20 Top 100 retailers. That doesn't mean everyone had a good market. In fact, there were some companies complaining about traffic. If you are one of those, there is reason for concern. When there is widespread agreement on diminished traffic, such as we saw this summer, it's a pretty good indicator of slowed ...

Bedding Today

David Perry

October 26, 2016

HIGH POINT – Sleepwell executive Paul Kahl sat on a bed in front of the White House – yes, that White House – and said the upcoming election will be good for his business. Kahl is vice president of A.W. Inds., which made its first High Point Market showing this week, spotlighting the company's private label line, Sleepwell. The Sleepwell showroom in the International Home Furnishings Center featured pictures of some of the famous landmarks in the Landover, Md.-based company's back yard, including the Washington Monument and the White House. I had Kahl take my picture in front of ...

Bedding Today

David Perry

October 21, 2016

AT THE MARKET - Call me Dave. I come to you today to offer some savvy market advice: Enjoy your journey in High Point. And delight in the many diversions along the way. That handy guide to the fall edition of market comes to you courtesy of "Moby-Dick." "Moby-Dick"? Yes, Herman Melville's masterpiece, published 165 years ago this week, is sweeping and grand enough to still speak to us today, and even this week at market. All it takes is a huge "Moby-Dick" fan like yours truly to unlock some of the eternal truths in a book that was a ...
Dallas Total Home & Gift Market

January 18, 2017 - January 24, 2017

Dallas Market Center

Dallas, Texas, US

Maison + Objet

January 20, 2017 - January 24, 2017

Paris, France, FR

Las Vegas Market

January 22, 2017 - January 26, 2017

World Market Center

Las Vegas, Nevada, US
More