High Point Market Show News
News, features and analysis of the Spring 2017 High Point Market, a biannual furniture trade show being held in High Point, N.C. Coverage includes updates on product introductions, style trends, business developments and strategies for growth.
Klaussner launching 'text-to-donate' campaign at Las Vegas Market to support City of Hope

In a move aimed at building support, awareness and donations for City of Hope, a world leader in cancer and diabetes research and treatment, Klaussner Home Furnishings is spearheading a first-of-its-kind text to donate campaign at the upcoming Las Vegas Market. More

ASFD announces call for Pinnacle entries

The American Society of Furniture Designers has announced their call for entries for the 2017 Pinnacle Awards. Submissions will be accepted through July 1. More

UPDATE: Is HB2 about to be repealed?

North Carolina Governor Pat McCrory has issued a proclamation calling the General Assembly into special session today, to consider repeal of the state law commonly referred to as HB2. More

IMC realigns sales and marketing teams

International Market Centers has realigned the responsibilities for its sales and marketing teams. The changes, which are effective Jan. 1, are designed to better serve cross-market customers. More

New Ridge to open High Point showroom

Ready-to-assemble furniture vendor New Ridge Home Goods has chosen a 1,700-square-foot space, 207-A in High Point's Centerpoint on Hamilton, as its first U.S. showroom. More

Video exclusive: Hekman continues trend toward clean-lined product

At the latest October High Point Market, Hekman Furniture continued to turn heads with its strategy of offering transitional leaning product. More

The Novogratz, Momeni team up for rug launch

Family informs much of the design of Cortney and Robert Novogratz. More

IMC refinances senior debt and revolving credit

Showroom operator International Market Centers has announced a refinancing of its senior secured debt and revolving credit facility. More

Business outstrips attendance in rug showrooms

While they're always going to want more buyers visiting their showrooms, rug producers at the Oct. 22-26 High Point Market couldn't say enough about the buyers who stopped by. More

Castelle revamps High Point, Chicago, Atlanta showrooms

Castelle announced that its Atlanta and Chicago showrooms will undergo renovations along with the most recent renovation of its High Point showroom. More

UPDATE: Pinnacle winners take the spotlight

The 2016 Pinnacle Award winners were named last week at the American Society of Furniture Designers' annual awards banquet. More
Prev
Next
Jonathan and Drew Scott, aka The Property Brothers, want to see your living room

Canada's favorite sons talked about family life, their favorite things and which brother is the favorite on a High Point showroom walkabout with Furniture Today. According to HGTV's popular twins, the goal is to bring their own furniture preferences into the Scott Living collection, "making aspirational attainable" and to see how people are using the designs in their own homes via #scottliving.

See Video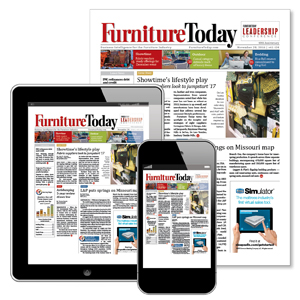 See the digital edition of Furniture/Today, which allows you to flip through the pages, click on any underlined area to visit a website or send an e-mail, search to find content in the magazine, or share pages with your friends. See the latest issue!
Bedding Today

David Perry

May 9, 2017

Top mattress tweets in HP: MyPillow, RSAs, Bedgear

Traffic was light in bedding showrooms, but the Internet was humming at the recent High Point Market. I unleashed a torrent of tweets, more than 60 in total, and included short videos with about one-third of those tweets. A look at my Twitter analytics (a great tool) reveals these top mattress tweets, in order of impressions: "Quick chat with Pillow Prince Mike Lindell." This tweet was easily the top scorer, generating thousands of impressions and hundreds of engagements. The MyPillow CEO, a familiar face on television thanks to the company's heavy advertising campaign, was making his first visit to ...

A Rep's Perspective

Mike Root

May 1, 2017

With a record crowd of almost 1,000 people, the Furniture Industry Awards Gala celebrated our great industry and the independent sales rep's part in it. With hundreds of reps in attendance as well as manufacturers and major retailers on Monday night of market, it was wonderful opportunity for IHFRA (International Home Furnishings Representatives Assn.) shine a light on the great value sales reps fill in the distribution network. Irv Blumkin from Nebraska Furniture Mart was recognized as the Retailer of the Year, and he spoke about how helpful reps have been to his company over the years. It ...

Furniture Everyday

Bill McLoughlin

March 16, 2017

Did Premarket reveal the industry's Achilles heel?

This week's Premarket saw its largest number of exhibitors since 2014, and while attendance was somewhat curtailed by an unexpected storm across the Northeast, there were plenty of dealers in town, and some even came in early to get a head start (no surprise there). Events like this are always a good opportunity to assess the industry's health, and I received some interesting responses to the question, "How is business?" This is one of those questions that typically elicit the stock response: "Good." This time however, there was often a long pause, occasionally followed by a facial expression ...
Las Vegas Market

July 30, 2017 - August 3, 2017

World Market Center Las Vegas

Las Vegas, Nevada , US

All American Furniture Expo

August 2, 2017 - August 3, 2017

Utz Building, York Expo Center

Lancaster, Pennsylvania, US

Next Conference

September 25, 2017 - September 27, 2017

Nationals Park

Washington, DC, US
More