Furniture Industry Market Statistics, Financial Analysis, Business News & Reports
Current furniture financial earnings, industry analysis reports, industry trends and market news on the top publicly held furniture companies
The 'Why' of Leadership

Eric Easter

February 25, 2014

We've all known control freaks. You know them as the folks who have to know everything, be sure everything is and will be perfect, who obsess over even the smallest issues to the detriment of the bigger ones, who must be in charge, who are unable to delegate effectively, who dominate conversations and who worry their life away. You may even be one of them.I certainly have a bit of this within me. It has dissipated over the years, but even today, I still have to guard against it. At some point along my career path I discovered ...

An Insider's View

Jerry Epperson

February 19, 2014

Furniture should be sturdier as our weight increases

Chunky, big-boned, heavyset, hefty, obese, calorie-challenged, wide-bodied, porkers, chubby, bulky, plump, bovine, butterball, husky, solid, stout, brawny, dumpy, gargantuan, paunchy, porcine, rotund, elephantine, portly and the list goes on.I am so fortunate. I was a fat child and a fat teenager so I am comfortable being a fat adult. Since I am indeed fat, I can call myself fat, but others would be uncomfortable calling me fat to my fat face.In the 1980s I was with a good friend, Laurence Zung, in Hong Kong. The nice management at Universal Furniture had prearranged with a tailor to custom make ...

Bedding Today

David Perry

February 19, 2014

5-year retail sales forecast calls for bedding growth

This week we shake off the pressing issues of the day and take a long-term look at where the mattress category is heading. The answer: to a pretty good place.The Retail Planning Guide that we published late last year contained a wealth of fascinating insights into markets around the country, and also included our forecasts of retail spending by furniture category for 2018.Yes, I know 2018 seems like a very far way away as we all get used to writing "2014" these days, but it is helpful to step back every now and then from questions about how ...
More
Out and about at the Casual Living Conference

From touring a retail store or playing a round of golf to attending cocktail parties with casual industry peers or learning more about the changing marketplace, professionals who took time to attend the third annual Casual Living Conference found time to squeeze in some fun. Change: The New Status Quo was the theme for the event, held Feb. 19-21 at Rosen Shingle Creek in Orlando, Fla.
View All Slideshows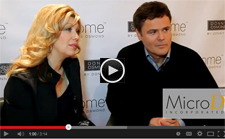 Join Furniture/Today as we interview manufacturers and retailers at the Winter 2014 Las Vegas Market. See the videos. Our video coverage was sponsored by MicroD.