Current furniture financial earnings, industry analysis reports, industry trends and market news on the top publicly held furniture companies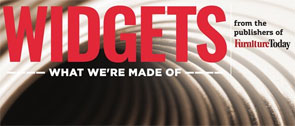 See our new publication Widgets, which is dedicated to the parts and pieces that make up the products your customers buy. This issue includes details about Hickory Springs, Leggett & Platt, Atlanta Attachment, Jones Nonwovens, Lectra, Saba and HFMSE. Get the latest!
Filicia offerings get the vote

Designer-for-president Thom Filicia parades Furniture Today's Bill McLoughlin through his collections at Eastern Accents (top of bed lines) and Vanguard (home furnishings), showing how he's ready to "make America beautiful again." (Video coverage sponsored by MicroD.)

See Video
Clint's Notes

Clint Engel

December 29, 2016

My mom is 82, and she loves Ikea. Her dining room group -- Ikea. Bedroom furniture (except for the nifty new adjustable foundation from Ashley HomeStore) -- Ikea.* Her living room? OK, the upholstery is Ekornes. Still, those little sloping footrests that go with the reclining sofa — Ikea, as she didn't really want to dish out hundreds more for the real thing. Office furniture — Ikea. Even her plates and napkins come from Ikea. All this is to point out that apparently my mother is an outlier. According to a consumer survey conducted by lender Earnest, the peak age for shopping that ...

An Insider's View

Jerry Epperson

December 22, 2016

New year may not mean big changes, but it brings hope for improvement

"Just sit right back, and you'll hear a tale, a tale of a fateful election ..." Just before November 8th, I was so exhausted from hearing the political babble that I began to watch reruns of Gilligan's Island and episodes of SpongeBob SquarePants. I can relate to SpongeBob's cynical neighbor, Squidward. We all know that January 1 st is just an arbitrary date, no different from any other day, but there is something refreshing about a new year. Add a new administration, even a controversial one, and we feel like there is hope for improvement and progress in ...

Formalized Curiosity

Courtney Thabet

December 12, 2016

Fear and Millennials in Orlando

Last week, after celebrating my two month anniversary with PBM, I presented research in front of more than 300 people at the 2016 Furniture Today Leadership Conference. As a former professor who had to speak in front of people daily, I did not think I would be nervous. Man, was I wrong. The nerves did not hit until five minutes before presentation. And while I did not fall or trip (a minor miracle), my voice did shake while speaking. Generally, I think a little bit of fear and adrenaline is good; one can use it to boost your energy for ...
Dallas Total Home & Gift Market

January 18, 2017 - January 24, 2017

Dallas Market Center

Dallas, Texas, US

Maison + Objet

January 20, 2017 - January 24, 2017

Paris, France, FR

Las Vegas Market

January 22, 2017 - January 26, 2017

World Market Center

Las Vegas, Nevada, US
More