News about green furniture production, marketing and retailing. Features on green companies which use eco-friendly manufacturing processes for their furniture.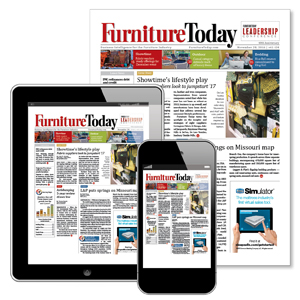 See the digital edition of Furniture/Today, which allows you to flip through the pages, click on any underlined area to visit a website or send an e-mail, search to find content in the magazine, or share pages with your friends. See the latest issue!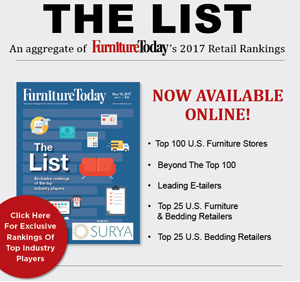 Get exclusive rankings of Furniture Today's top industry players including Top 100 Furniture Stores, Top 25 Bedding Retailers and leading e-Tailers. Get the stats now! Sponsored by Surya.
Furniture Everyday

Bill McLoughlin

November 16, 2017

Did furniture stores not get the retail apocalypse memo?

I keep reading about this retail apocalypse thing. Apparently brick and mortar is dead. It's time to turn all that space into condos or something. Just yesterday I received an e-mail asking if we were working on any year-in-review/looking-ahead stories focusing on the retail apocalypse. It seems there's a cottage industry of experts just waiting to share their thoughts on this seeming inevitability. Who knew? I was already to call and find out what they knew that I didn't. Then the U.S. Department of Commerce released its October results, and it seems it might not ...

Bedding Today

David Perry

November 14, 2017

Mattress boom in the cards if Millennials don't grow up

Will Millennials, those darlings of marketers everywhere, grow up to act like Baby Boomers? The bedding industry is hoping that the answer is a resounding "no." A lot is riding on that question. We are talking about millions of additional mattress sales and a major surge in business. Here, in a nutshell, is the potential marketing opportunity. According to a major consumer study conducted last year by the Better Sleep Council, Millennials expect to keep a new, quality mattress for 6.6 years but had their current mattress for 5.3 years before replacing it with the one they are ...

Clint's Notes

Clint Engel

November 13, 2017

Grow or be outgrown? Addressing the urgency to keep up

The merger last month of two of the nation's largest furniture, electronics and appliance buying groups points to an industry trend that's only going to grow in the years to come. You might actually call the trend, "Grow." Perhaps, "Grow or be outgrown." Or you could just call it boring old retail consolidation, which has been going on for years, anyway. But it's really anything but boring as there seems to be a new sense of urgency behind it that's likely to drive more of the same and do so in a host of new shapes ...
Furniture Today Leadership Conference

November 28, 2017 - November 30, 2017

Four Seasons Resort

Orlando, Florida, US

Showtime Fabric Fair

December 3, 2017 - December 6, 2017

High Point, N.C.

Tupelo Furniture Market

January 4, 2018 - January 7, 2018

TFM Convention

Tupelo, Miss., US
More