Green Furniture: Eco-Friendly Furniture Manufacturing and Retail
News about green furniture production, marketing and retailing. Features on green companies which use eco-friendly manufacturing processes for their furniture.
An Inside Look

Thomas Lester

March 10, 2014

Innovations abound in rug world

Over the next two editions of Furniture/Today, we celebrate innovation across several categories in the industry. A number of rug manufacturers have gotten on board with groundbreaking ideas in the way rugs are made and in the finished product. Prior to the winter market cycle, I had a chance to speak with Brandon Culpepper, Mohawk Inds.' vice president of specialty sales, about a number of new fibers that Mohawk is using for rugs in its Karastan and American Rug Craftsmen brands. The story of SmartStrand, EverStrand, PermaStrand and Wear-Dated Nylon was a major part of the rug introductions for ...

The 'Why' of Leadership

Eric Easter

March 10, 2014

This shocked me: According to a recent Gallup survey only 30% of employees are happy in their work, 52% are not engaged and 18% hate their jobs. Yes, 70% of employees are disengaged or actually hate their job. OUCH! Obviously, our success as leaders is inextricably tied to the performance of our fellow associates. Our associates must be passionate, motivated, want to improve and have a strong desire to serve (customers and their fellow associates) if we are to grow market share. Every company wants to maximize its potential. This will not happen if employees are disengaged or hate their ...

Law and the Business of Furniture

Jerry Cohen

March 4, 2014

Prop 65 Casual Living Conference Recap

At the recent Casual Living conference, I moderated a panel on California Proposition 65, a law requiring warning labels to consumers who buy products containing certain chemicals determined to pose health risks. While the law is nearly thirty years old, it has become big news recently in our industry because of a new requirement starting in October 2012. A chemical called TDCPP, also known as Tris, is a common flame retardant used by furniture manufacturers, and that chemical was added by the state of California to the list of chemical carcinogens requiring a Proposition 65 warning. (A short version of ...
International Furniture Fair Singapore

March 13, 2014 - March 16, 2014

Singapore Expo

Singapore, SG

IFFINA 2014

March 14, 2014 - March 17, 2014

Pegambiran streets No.5 Rawamangun

Jakarta, Jakarta

Philippines International Furniture Show (PIFS)

March 14, 2014 - March 17, 2014

SMX Convention Center, Seashell Lane, Mall of Asia Complex

Manila, PH
More
Amp up the drama with arresting combinations of black and white, setting the stage for spectacularly commanding style.
View All Slideshows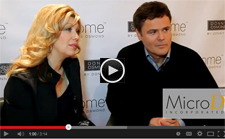 Join Furniture/Today as we interview manufacturers and retailers at the Winter 2014 Las Vegas Market. See the videos. Our video coverage was sponsored by MicroD.