News about green furniture production, marketing and retailing. Features on green companies which use eco-friendly manufacturing processes for their furniture.
Furniture Marketing Group completes migration to Khameleon analytics solution

Furniture Marketing Group, one of Haworth's largest global dealers, is the first to complete its enterprise-wide migration to Khameleon Business Intelligence, anew analytics solution from Khameleon Software. More

Blueport Commerce sources its testing through Applause

Blueport Commerce teamed up with Applause to help ensure the quality of Blueport's platform works optimally across all devices and geographies. More

Furniture First Symposium homes in on idea sharing and store experience

Furniture First's annual Symposium held in Phoenix this month drew 163 retailer member representatives of the buying group and 146 representatives from the group's service and merchandise supplier partners. More

Florida retailer Sheldon Slone dies at 77

Sheldon "Shelly" Slone, founder of S.J. Slone's Furniture Gallery, which would become Slone Brothers Furniture in Longwood, Fla., died May. 13. He was 77. More

Star Furniture chairman, Melvyn Wolff, dies at 86

Melvyn Lee Wolff died May 25 at age 86. He transformed a small family-owned, low-end, credit-oriented store into one of the most successful retail furniture operations in the U.S. – Star Furniture. More

Meredith Heron: The power of partnership

When the subject turns to the relationship between manufacturer and designer, Meredith Heron knows what she's talking about. More

Canadian inspiration: Jonathan and Drew Scott reflect on the country's influence on their designs

Jonathan and Drew Scott are international celebrities courtesy of HGTV's popular Property Brothers series, but the twins' growing up years are firmly rooted in Canada. More

Innocor's Briney retiring at end of June

Innocor, a producer of polyurethane foam products, announced that Jeff Briney, senior vice president of Innocor Foam Technologies, will be retiring at the end of June 2017. More

The Home Furnishings Manufacturing Expo debuts June 7-8

On June 7-8 the Home Furnishings Manufacturing Solutions Expo (HFMSE) will make its debut at the Georgia World Congress Center in Hall A1. More
Next
Canada, conference, Casper and more

Frontline Friday spans the Furniture Today newsroom for the editors' updates on Canadian news, positive outlook for the Top 100, highlights from this year's Bedding Conference and a news update on Target and Casper.

See Video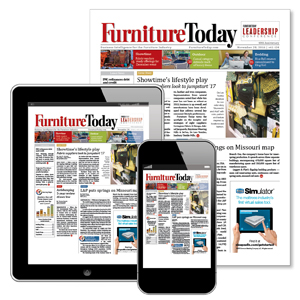 See the digital edition of Furniture/Today, which allows you to flip through the pages, click on any underlined area to visit a website or send an e-mail, search to find content in the magazine, or share pages with your friends. See the latest issue!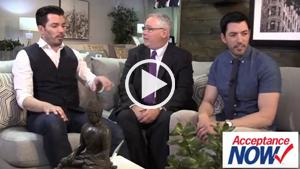 See our videos from the Spring 2017 High Point Market featuring coverage of the Scott Brothers, Christopher Guy, 3D furniture printing, and our Habitat for Humanity building project. See videos! Video coverage sponsored by AcceptanceNOW.
Furniture Everyday

Bill McLoughlin

May 25, 2017

And the award goes to ... well, that's up to you. Furniture Today's Annual Leadership Conference, this year to be held Nov. 28-30 at the Four Seasons Resort in Orlando, Fla., will crown three Furniture Industry Leadership Award winners, with both nominations and eventual winners determined by you, the members of the furniture industry. This is an evolving process and builds on our initial efforts at industry involvement in the process at last year's 20th Anniversary Leadership event. In order to ensure meaningful evaluations of comparable organizations, we've divided the program this year into three categories, with ...

One Stop Shop

Alex Milstein

May 23, 2017

5 innovations propelling the furniture industry into the future

Over the past few years, great strides in technological innovations have been made within the furniture industry, but we have only begun to see the potential of advanced technology for the industry. Here are five innovations that are just beginning to propel the industry into the future. Augmented reality. We've all heard about AR by this point. From Ikea to Williams-Sonoma, AR apps for retail are gaining ground like never before. AR's ability to show what furniture looks like in a customer's home, and even test if it will fit in a certain space, is changing the ...

Mattress Math

David Perry

May 22, 2017

6 figures document furniture store issues

A look at bedding industry issues by the numbers may shed some light on why furniture stores have been losing market share for years. This is the market share, in dollars, enjoyed by hybrids in furniture stores in 2014 and 2016, respectively. Why they matter: Hybrids, the fastest-growing mattress technology in bedding specialty stores – a gain of nine percentage points in the last two years — are also growing in furniture stores, but at a significantly slower rate. Still, a gain of five percentage points in just two years is not inconsequential. This is the market share, in dollars, enjoyed by ...
Showtime

June 4, 2017 - June 7, 2017

Suites at Market Square

High Point, North Carolina, US

Home Furnishings Manufacturing Solutions Expo (HFMSE)

June 7, 2017 - June 8, 2017

Georgia World Congress Center

Atlanta, GA, US

Tupelo Furniture Market

June 8, 2017 - June 11, 2017

Tupelo, Mississippi, US
More