Furniture Today provides the most comprehensive coverage of the global retail furniture business. Get the latest news on the top 100 furniture stores and retailers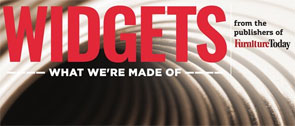 See our new publication Widgets, which is dedicated to the parts and pieces that make up the products your customers buy. This issue includes details about Hickory Springs, Leggett & Platt, Atlanta Attachment, Jones Nonwovens, Lectra, Saba and HFMSE. Get the latest!
Clint's Notes

Clint Engel

January 11, 2017

As Amazon Go goes so goes furniture?

Should furniture stores worry about Amazon Go, the grocery store of the future introduced via YouTube last month? If you are just a little afraid of Amazon, this could be scary stuff at first glance: A customer walks into the store, scans his smartphone at a turnstile like he's about to get on the subway, and then he starts shopping away. If he picks up a box of cereal, say, it's automatically added to his virtual cart. If he changes his mind, he puts it back, and it's instantly removed from the cart. When he's done ...

From Fabric to Frame

Cindy W. Hodnett

January 5, 2017

As seen online: These retailers are telling customers why they should buy

Full disclosure, when you're an editor for a furniture publication, stalking is allowed. No, I'm not referring to the creepy kind of stalking, but instead the kind where some of us go into furniture stores incognito to see what retailers are doing on the floor, as well as the kind where we surf websites to see which companies "get it" in terms of telling their stories to customers. We're writers, so of course we love to critique content, but additionally it's gratifying to see some of our furniture retailers making the effort to remind consumers that ...

Clint's Notes

Clint Engel

December 29, 2016

My mom is 82, and she loves Ikea. Her dining room group -- Ikea. Bedroom furniture (except for the nifty new adjustable foundation from Ashley HomeStore) -- Ikea.* Her living room? OK, the upholstery is Ekornes. Still, those little sloping footrests that go with the reclining sofa — Ikea, as she didn't really want to dish out hundreds more for the real thing. Office furniture — Ikea. Even her plates and napkins come from Ikea. All this is to point out that apparently my mother is an outlier. According to a consumer survey conducted by lender Earnest, the peak age for shopping that ...
Dallas Total Home & Gift Market

January 18, 2017 - January 24, 2017

Dallas Market Center

Dallas, Texas, US

Maison + Objet

January 20, 2017 - January 24, 2017

Paris, France, FR

Las Vegas Market

January 22, 2017 - January 26, 2017

World Market Center

Las Vegas, Nevada, US
More