Furniture Today provides the most comprehensive coverage of the global retail furniture business. Get the latest news on the top 100 furniture stores and retailers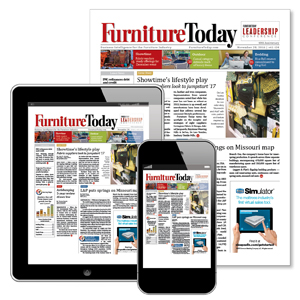 See the digital edition of Furniture/Today, which allows you to flip through the pages, click on any underlined area to visit a website or send an e-mail, search to find content in the magazine, or share pages with your friends. See the latest issue!
Clint's Notes

Clint Engel

June 12, 2017

Is the 'retail apocalypse' coming for furniture stores?

In the past few months we started seeing some multi-store home furnishings retailers call it quits. Erdos at Home, for example, the 12-store, Dallas-based retailer that used to be I.O. Metro, "A different kind of furniture store." And then early this month, Los Angeles-based Dearden's, a 108-year-old credit-oriented chain, said it would shut down its eight stores after struggles that started with the recession. No rebound seemed to be in sight, CEO Ronny Bensimon suggested. Retail apocalypse. Retail armageddon. Those are a couple of the doom-themed names for retail consolidation bandied about by news websites such as Business ...

From Fabric to Frame

Cindy W. Hodnett

May 29, 2017

Why the Havertys ad campaign is right on the money

When Havertys kicked off its new Life Looks Good ad campaign a couple of weeks ago, the first glimpse this editor had of it was at home on Mother's Day weekend, glass of wine in hand after several family gatherings. The vision of a mischievous son flushing his mother's necklace down the toilet prompted a mix of laughter and nostalgia; after all, what mom doesn't remember a similar experience, even when the former flusher now measures 6 feet tall? Within a 30-second commercial, Havertys effectively created a bond with every mother watching, showed a range of products ...

Clint's Notes

Clint Engel

April 25, 2017

Amazon furniture move dings Wayfair stock? Here's why that doesn't make sense.

Furniture Today's report Monday that Amazon was pitching a new program to furniture stores at the High Point Market may have played into a 5.4% drop in Wayfair shares that day. That's according to some national business news outlets that picked up on the story. But it's not making much sense to me. Let's start with the news. Amazon representatives were here pitching a platform change designed to make it easier for furniture stores to sell on the e-commerce marketplace by dropping a longstanding requirement that these sellers must offer national delivery. Most furniture stores ...
Las Vegas Market

July 30, 2017 - August 3, 2017

World Market Center Las Vegas

Las Vegas, Nevada , US

All American Furniture Expo

August 2, 2017 - August 3, 2017

Utz Building, York Expo Center

Lancaster, Pennsylvania, US

Next Conference

September 25, 2017 - September 27, 2017

Nationals Park

Washington, DC, US
More