News on furniture tradeshows, events and seminars with exclusive previews and live updates on new products and trends.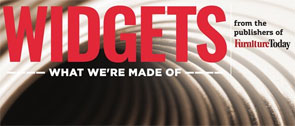 See our new publication Widgets, which is dedicated to the parts and pieces that make up the products your customers buy. This issue includes details about Hickory Springs, Leggett & Platt, Atlanta Attachment, Jones Nonwovens, Lectra, Saba and HFMSE. Get the latest!
WithIt panel discussion spotlights group's 20 years

WithIt Managing Director Amy Van Dorp shares about the work the organization is doing to help women advance in the furniture industry, and she looks ahead to the WOW Awards in April and the WithIt Professional Conference in June. (Video coverage sponsored by Crest Financial.)

See Video
Formalized Curiosity

Courtney Thabet

December 12, 2016

Fear and Millennials in Orlando

Last week, after celebrating my two month anniversary with PBM, I presented research in front of more than 300 people at the 2016 Furniture Today Leadership Conference. As a former professor who had to speak in front of people daily, I did not think I would be nervous. Man, was I wrong. The nerves did not hit until five minutes before presentation. And while I did not fall or trip (a minor miracle), my voice did shake while speaking. Generally, I think a little bit of fear and adrenaline is good; one can use it to boost your energy for ...

Furniture Everyday

Bill McLoughlin

December 2, 2016

As I sit here writing this, the Furniture Today Leadership Conference has just concluded. The focus of the conference this year was transformative change and leading organizations through it. Day one was packed with speakers describing the increasing pace of change the industry confronts and offering a plethora of strategies to confront it. Day two concluded with three bright, passionate and knowledgeable future leaders laying out a vision for tomorrow that cannot help but make one optimistic about the industry's future. We will have complete coverage in next week's paper. But sometimes the most profound learning takes place ...

Furniture Everyday

Bill McLoughlin

November 3, 2016

4 reasons you might not have had a good High Point Market

By most accounts the recent High Point Market was solidly attended. At least two exhibitors told me they had their best market in years. Another reported a 30% increase in retail showroom visits, and yet another said by Saturday his company had seen at least 20 Top 100 retailers. That doesn't mean everyone had a good market. In fact, there were some companies complaining about traffic. If you are one of those, there is reason for concern. When there is widespread agreement on diminished traffic, such as we saw this summer, it's a pretty good indicator of slowed ...
Dallas Total Home & Gift Market

January 18, 2017 - January 24, 2017

Dallas Market Center

Dallas, Texas, US

Maison + Objet

January 20, 2017 - January 24, 2017

Paris, France, FR

Las Vegas Market

January 22, 2017 - January 26, 2017

World Market Center

Las Vegas, Nevada, US
More