News on furniture tradeshows, events and seminars with exclusive previews and live updates on new products and trends.
Centers of High Point marks 20-year milestone, better than ever

Jason Blalock and Elaine Crowell, of Centers of High Point, join Furniture Today's Bill McLoughlin to mark the Centers' 20th anniversary by showcasing the major renovations and innovations within the five buildings as well as the efforts to make the buildings more accessible and easier for retail buyers to shop. (Video coverage sponsored by Klarna.)

See Video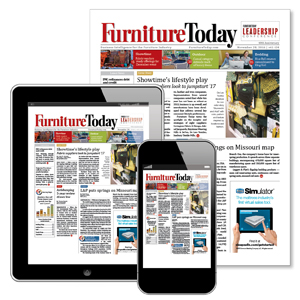 See the digital edition of Furniture/Today, which allows you to flip through the pages, click on any underlined area to visit a website or send an e-mail, search to find content in the magazine, or share pages with your friends. See the latest issue!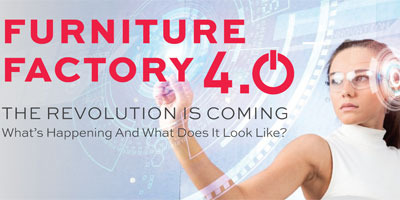 If you missed our recent webcast with Lectra on what the furniture factory of the future will look like, then you can click here to watch the recorded version. Topics include what trends and challenges are affecting furniture factories in the US & Worldwide and how these challenges are changing furniture production.
View Now!
Bedding Today

David Perry

October 17, 2017

High Point introductions: 5 ways to boost business

The fall High Point Market, a personal favorite of mine (more on that later), is now open for business. Here, culled from the list of bedding companies showing their wares in High Point this week, are five business-building ideas you should consider: 1. Expand your commitment to better bedding. Shifman Mattress, the New Jersey-based producer that focuses on the high end of the market, has revamped its Masters collection, which touts natural materials and handcrafted quality. Another high-end company to consider is Vispring, the Plymouth, England-based producer, which is debuting new Italian designer fabrics here and is showing a premium ...

Furniture Everyday

Bill McLoughlin

October 12, 2017

The road to tomorrow starts here and now

A great deal of time and effort these days is spent pondering what the future of the furniture business will look like. How will stores evolve? How can local or regional players compete in an environment of national, even global e-commerce giants? Will digital advertising and social media replace traditional marketing formats? How do you reach Millennials, and what do they want to buy? All of these are important questions, and they just scratch the surface. That said, there is no path to the future that does not go through running a good business today. Despite all the talk about ...

Furniture Everyday

Bill McLoughlin

October 5, 2017

Tragedies bring immense pain, but also stories of heroism and hope

I would like to take pause from the regularly scheduled business column that appears in this space to offer heart-felt condolences to all those impacted by the shooting in Las Vegas. It is yet another reminder, as if one was needed after the succession of tragedies that have struck Houston, Miami, Puerto Rico and so many other places this year, that life is a precious and fragile gift. There are no magic words of comfort to ease the suffering of those who have lost loved ones. There is only empathy, sympathy and prayers to ease their pain. It is a ...
Southern California Furniture & Accessory Market

November 9, 2017 - November 10, 2017

Long Beach Convention Center

Long Beach, California, US

Furniture Today Leadership Conference

November 28, 2017 - November 30, 2017

Four Seasons Resort

Orlando, Florida, US

Showtime Fabric Fair

December 3, 2017 - December 6, 2017

High Point, N.C.
More