Furniture Licensing Partnerships & Celebrity Collections
News and features covering the latest furniture licensing partnerships, celebrity collection lines and licensed furniture agreements
Law and the Business of Furniture

Jerry Cohen

September 16, 2013

A Roadmap for Suppliers, Retailers, Licensees and Employees As the Furniture Brands Bankruptcy Proceeds

Furniture Brands International filed for Chapter 11 bankruptcy on September 9. In the time leading up to this filing and since, I've received questions from readers and clients about what this means for business in the coming months. Now that the filing has occurred and more information is available, we can begin to analyze its effect on FBI's suppliers, retailers, licensees and employees. As I mentioned in my last post, the bankruptcy process takes time. Two of many upcoming milestones are the sale of Lane and the auction and bankruptcy court approval, scheduled for January 2014, of the ...

Law and the Business of Furniture

Jerry Cohen

September 3, 2013

What a Furniture Brands Bankruptcy Could Mean for Vendors, Retailers and Licensees

The threat of bankruptcy for Furniture Brands International is an unsettling development for a storied industry. The furniture business has a generations-old tradition of craftsmanship, design, and pride. Having worked with the founders and executives of furniture businesses and others that supply and buy from them, I appreciate this tradition. I also understand why the uncertain future of Furniture Brands makes everyone in the industry anxious. A better understanding of what could happen will help you navigate the uncertainties and protect your business.Risks and precautions for vendors. When a business enters bankruptcy, there are adjustments to its contractual obligations ...

An Inside Look

Thomas Lester

July 2, 2013

Ten points for successful celebrity licensing

Licensing is a major staple in the home furnishings industry. From HGTV to Kathy Ireland to Angelo Surmelis to Biltmore to Tommy Bahama to the Duck Dynasty crew to Paula Deen (as of this writing), it's not uncommon to see the names, logos and visages of famous people or brands on or associated with products.During the American Home Furnishings Alliance's June 24-26 marketing meeting held in Raleigh, industry veteran and home furnishings consultant Ed Tashjian gave a presentation on celebrity licensing in the home furnishings industry, including what to look for and what to watch out for ...
More
Out and about at the Casual Living Conference

From touring a retail store or playing a round of golf to attending cocktail parties with casual industry peers or learning more about the changing marketplace, professionals who took time to attend the third annual Casual Living Conference found time to squeeze in some fun. Change: The New Status Quo was the theme for the event, held Feb. 19-21 at Rosen Shingle Creek in Orlando, Fla.
View All Slideshows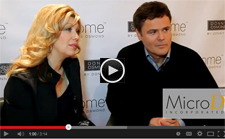 Join Furniture/Today as we interview manufacturers and retailers at the Winter 2014 Las Vegas Market. See the videos. Our video coverage was sponsored by MicroD.