Latest worldwide news for furniture importers, exporters, manufacturing, distribution and logistics.
Automated trucking, final mile and what's new with Amazon

With a wrap up from the 2017 Logistics Symposium, Editor in Chief Bill McLoughlin says automated trucking technology is around the corner, everyone is focused on the final mile and, with Amazon's recent Whole Foods buy, it is one step closer to bringing furniture into the fold.

See Video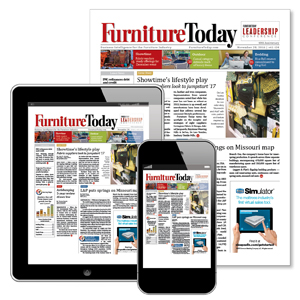 See the digital edition of Furniture/Today, which allows you to flip through the pages, click on any underlined area to visit a website or send an e-mail, search to find content in the magazine, or share pages with your friends. See the latest issue!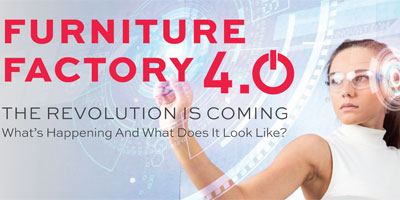 If you missed our recent webcast with Lectra on what the furniture factory of the future will look like, then you can click here to watch the recorded version. Topics include what trends and challenges are affecting furniture factories in the US & Worldwide and how these challenges are changing furniture production.
View Now!
Clint's Notes

Clint Engel

September 8, 2017

7 takeaways from Conn's 2Q earnings call

Conn's managed to swing to a profit despite a steep drop in fiscal second quarter sales, and its higher-margin furniture business had something to do with that. Here's more on this, the continuing impact of Hurricane Harvey and other takeaways from Conn's earnings call with the investment community Thursday: Conn's loses fewer business days to Harvey but … The furniture, electronics and appliance retailer lost about 100 selling days to Hurricane Harvey — not bad when compared to other storms, such as Hurricanes Ike and Gustav in 2008, which combined for 144 lost days, and Hurricane Rita in ...

Clint's Notes

Clint Engel

September 6, 2017

Harvey victims leave their Gallery shelter, but Mack's still providing

I caught up with Jim "Mack" McIngvale again Wednesday. By now, you (and most everyone in this country) have heard about how he opened his two largest Gallery Furniture stores in Houston to shelter some 800 or so flood victims of Hurricane Harvey. All the families he took in during the storm left Friday, but McIngvale's work continued. On Wednesday afternoon, he was out in front of his North Freeway location, directing about 1,000 people, who were waiting in line for free cleaning supplies, toilet paper, bottled water, soap and shampoo. "We're getting about 2,000 people ...

Clint's Notes

Clint Engel

August 25, 2017

Big Lots sounds like TJX and 5 more takeaways from the 2Q earnings call

Compare the second quarter earnings call of TJX Cos. earlier this month and Big Lots this week and you start to see a lot of similarities between these off-price giants. Both appear fairly immune to the so-called "retail apocalypse" that the broader retail sector has faced as consumers continue to shift to online everything; both say it's their blend of quality, brand, fashion and price driving the consumer into stores (for Big Lots, it's "QBFV" or quality brand fashion and value, but pretty close); and both are building up a category offering in which they see great promise ...
Next Conference

September 25, 2017 - September 27, 2017

Nationals Park

Washington, DC, US

High Point Market

October 14, 2017 - October 18, 2017

Downtown High Point

High Point , North Carolina , US

ABC Kids Expo

October 17, 2017 - October 19, 2017

Las Vegas, Nevada
More