Latest worldwide news for furniture importers, exporters, manufacturing, distribution and logistics.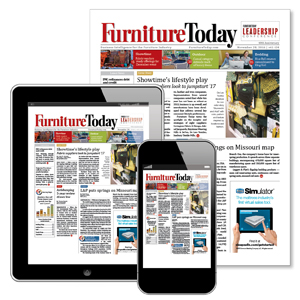 See the digital edition of Furniture/Today, which allows you to flip through the pages, click on any underlined area to visit a website or send an e-mail, search to find content in the magazine, or share pages with your friends. See the latest issue!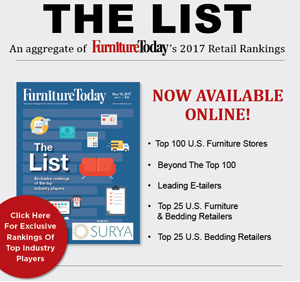 Get exclusive rankings of Furniture Today's top industry players including Top 100 Furniture Stores, Top 25 Bedding Retailers and leading e-Tailers. Get the stats now! Sponsored by Surya.
Furniture Everyday

Bill McLoughlin

November 9, 2017

Traditional rules of retail no longer apply

I'm always a little surprised when people discuss e-tailers like Wayfair and Amazon and want to measure their success by their month-to-month profitability. It usually goes something like this, "Sure Wayfair had $1.2 billion in sales last quarter and was up 41.9% year over year, but look at the loss it had. When is it ever going to turn a profit?" It's a direct echo of conversations I heard all throughout the '90s about Amazon. Each quarter the revenue would go up, it would capture more customers, and sceptics would question its profitability and speculate about ...

From A Rep's Perspective

Mike Root

November 8, 2017

What do you consider the biggest threat to the furniture industry?

My head was spinning, my mind was racing, and I was downright concerned that life in the furniture business was not ever going to be the same again! I was concerned for my retailer customer, my fellow reps and our rep organization because of the futuristic projections thrown at me from very knowledgeable people. Recently I attended a conference sponsored by HFN, a sister publication of Furniture Today around the topic of omnichannel retailing. My definition of this concept after absorbing the information from the conference isthe communication of brand or message across all platforms giving the retail customer a ...

Clint's Notes

Clint Engel

September 8, 2017

7 takeaways from Conn's 2Q earnings call

Conn's managed to swing to a profit despite a steep drop in fiscal second quarter sales, and its higher-margin furniture business had something to do with that. Here's more on this, the continuing impact of Hurricane Harvey and other takeaways from Conn's earnings call with the investment community Thursday: Conn's loses fewer business days to Harvey but … The furniture, electronics and appliance retailer lost about 100 selling days to Hurricane Harvey — not bad when compared to other storms, such as Hurricanes Ike and Gustav in 2008, which combined for 144 lost days, and Hurricane Rita in ...
Furniture Today Leadership Conference

November 28, 2017 - November 30, 2017

Four Seasons Resort

Orlando, Florida, US

Showtime Fabric Fair

December 3, 2017 - December 6, 2017

High Point, N.C.

Tupelo Furniture Market

January 4, 2018 - January 7, 2018

TFM Convention

Tupelo, Miss., US
More