Upholstery Furniture industry news, features and analysis
In-depth news, analysis and trend coverage of the stationary and motion upholstered furniture industry, including sofas, chairs, sectionals, recliners, glider-rockers and loveseats covered in fabric and leather.
Defining Style

Cindy W. Hodnett

October 14, 2013

What's in the making of upholstery innovation?

Innovation is always a hot topic going into market. Who is introducing something that is a must see? What new bell, whistle, fabric or finish is going to be the showstopper? Which company is doing the best job of bringing excitement to the industry?But if you look a little deeper at the definition of innovation, you'll find it isn't just about creating something new for the sake of being different. According to one definition, it's about finding solutions for "new requirements, inarticulate needs or existing market needs." So what does that mean for the upholstery category ...

Defining Style

Cindy W. Hodnett

August 19, 2013

Furniture fantasies run the gamut

I'm waiting on the mail. Any day, "Retro Style: Class, Gender and Design in the Home" is scheduled to arrive, and I can't wait. As a self-described design nerd, I love learning about the influences that compel individuals toward particular design aesthetics, and as a fan of modern style, I want to see what Dr. Sarah Baker has to say about the furniture junkies who never tire of Eames, Nelson and Baughman.The correlation between the furniture that a consumer buys and the feelings that a piece of furniture evoke cannot be ignored. As I write this, market ...

Editor's Desk

Ray Allegrezza

February 18, 2013

Consider consumer in debate over FR

As expected, the sparks are already flying over California's recent announcement that it wants to eliminate a longstanding regulation that requires the use of chemical flame retardants in upholstery.The fire safety standards, which have been on the books in California since the 1970s, require that any foam used in furniture cushions withstand a 12-second exposure to a small open flame without igniting.But now, California wants to eliminate the open-flame test and replace it with a smolder-only test, which it says will enable upholstery makers to be compliant without flame retardants.Not surprisingly, this has evoked a strongly ...
More
Out and about at the Casual Living Conference

From touring a retail store or playing a round of golf to attending cocktail parties with casual industry peers or learning more about the changing marketplace, professionals who took time to attend the third annual Casual Living Conference found time to squeeze in some fun. Change: The New Status Quo was the theme for the event, held Feb. 19-21 at Rosen Shingle Creek in Orlando, Fla.
View All Slideshows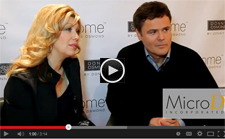 Join Furniture/Today as we interview manufacturers and retailers at the Winter 2014 Las Vegas Market. See the videos. Our video coverage was sponsored by MicroD.