Furniture imports, exports, overseas markets, tracking & transportation trends
News and analysis on the global furniture industry: Reports on overseas markets, sourcing issues, tracking & transportation trends for furniture imports and exports.
Logistics and Home Delivery

Pat Cory

January 30, 2014

If today's economy has taught us anything, it's that people will pay a premium for delivery of a product that they want.The perfect example illustrating this ever-growing phenomenon is the Internet-based company Amazon. A winning price/value formula is the basis of its ongoing success, and people are happy to pay a premium price for an item valued at $14.99 just to have it delivered the next day. We all know that a product needs to offer value through price and/or quality to do well. Taking this a step further, providing a superior quality product ...

From A Rep's Perspective

Mike Root

January 17, 2014

Former Rep Turns Retailer and Bedding Guru

I have the good fortune of meeting lots of interesting people in the furniture business. About five years ago I met a bedding salesman from Pennsylvania named Jeff Giagnocavo. What I liked about Jeff was his constant interest in making himself better. He knew that marketing was important and worked very hard to learn all he could to help his small and medium sized dealers sell mattresses in the highly competitive niche.For 12 years Jeff specialized in selling mattresses and bedroom furniture as a sales representative. I know how frustrated he would get when he learned marketing that he ...

From A Rep's Perspective

Mike Root

January 10, 2014

2013 marked a remarkable year for the industry's only sales rep organization. This year was the first time we surpassed the 1800 member mark in over two decades... In other words, this is the largest membership in the 21st century!!!Think about it, 1800 members strong. This really helps provide services for guys and gals out traveling, managing their sales organizations and learning new technologies that are important for being proficient in this connected business world. And we're just getting started.Since the recession IHFRA has been helping reps better manage their businesses. And in spite of a ...
More
Amp up the drama with arresting combinations of black and white, setting the stage for spectacularly commanding style.
View All Slideshows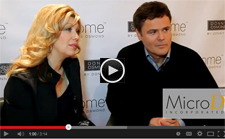 Join Furniture/Today as we interview manufacturers and retailers at the Winter 2014 Las Vegas Market. See the videos. Our video coverage was sponsored by MicroD.