Furniture management news and awards involving furniture manufacturers, retailers, suppliers, sales representatives and others in the industry
India Inspiration: Destination Design by Black Dog Salvage

Repurposed, reclaimed and refurbished materials from India are at the heart of a new furniture collection — Destination Design by Black Dog Salvage — coming to spring High Point Market. Get an exclusive behind-the-scenes look at the country that inspired a collection.

See Video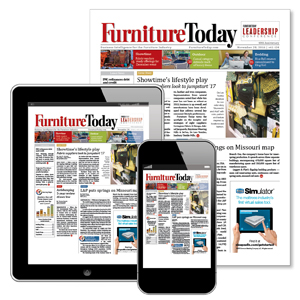 See the digital edition of Furniture/Today, which allows you to flip through the pages, click on any underlined area to visit a website or send an e-mail, search to find content in the magazine, or share pages with your friends. See the latest issue!
Furniture Retail Solutions

Over the past year, our editorial team has been on the road, studying retail – what's working and what challenges even the most established retailers face. Born from these studies is Furniture Retail Solutions – a multi-part series addressing common problems retailers face. Read our first two articles:
* Ergomotion increases retailer's profit potential with Motion Bedroom Furniture
* REM-Fit, by Protect-a-Bed, Outlines the Benefits of a Brand Store
From A Rep's Perspective

Mike Root

June 13, 2017

As furniture sales reps, we are exposed to a number of different retailing strategies in the stores we service. Some are high volume, promotionally driven operators who depend on a steady stream of customers and lots of activity. On the other end of the spectrum is a high-touch, high-margin, lower-volume operator. The vast majority of furniture purveyors fall somewhere in between. And we have to craft our marketing message for our products to best fit the right retail format. As I write this post on my 20th Southwest jet of the year, I realize some similarities between success in the ...

From A Rep's Perspective

Mike Root

May 9, 2017

This journey of sharing best practices for a sale representative started back in March at about the time some of my newer sales associates were trying to figure out how to jumpstart their career in furniture. We thought other reps might be able to learn from some of the ideas shared within our operation. This process took us from mindset of running your sales business like it was a real business, through continuing education, market preparation, product meetings and many topics in between. This is the 10th and final installment. In many ways all the previous blogs build up to ...

From A Rep's Perspective

Mike Root

April 18, 2017

Strategy 9: The presentation of product meeting

In my many years of working for various factories, I have seen the good the bad and the ugly of sales presentations. Since market starts this week, this column should be as helpful to the factory as it is to the rep. The good factories make sure their sales associates have all the tools they need to help a retailer make an informed decision. This includes a good picture, correct pricing, dimensions and fabric swatch if applicable. If the product mixes with other products from a certain factory, then those items that mix together should be identified. Going into market ...
Fall 2017 Ohio Hardwood Furniture Market

September 20, 2017 - September 21, 2017

Harvest Ridge

Millersburg, Ohio, US

Next Conference

September 25, 2017 - September 27, 2017

Nationals Park

Washington, DC, US

High Point Market

October 14, 2017 - October 18, 2017

Downtown High Point

High Point , North Carolina , US
More