Furniture sector hires, promotions, awards
Furniture management news and awards involving furniture manufacturers, retailers, suppliers, sales representatives and others in the industry
The 'Why' of Leadership

Eric Easter

March 10, 2014

This shocked me: According to a recent Gallup survey only 30% of employees are happy in their work, 52% are not engaged and 18% hate their jobs. Yes, 70% of employees are disengaged or actually hate their job. OUCH! Obviously, our success as leaders is inextricably tied to the performance of our fellow associates. Our associates must be passionate, motivated, want to improve and have a strong desire to serve (customers and their fellow associates) if we are to grow market share. Every company wants to maximize its potential. This will not happen if employees are disengaged or hate their ...

The 'Why' of Leadership

Eric Easter

February 25, 2014

We've all known control freaks. You know them as the folks who have to know everything, be sure everything is and will be perfect, who obsess over even the smallest issues to the detriment of the bigger ones, who must be in charge, who are unable to delegate effectively, who dominate conversations and who worry their life away. You may even be one of them.I certainly have a bit of this within me. It has dissipated over the years, but even today, I still have to guard against it. At some point along my career path I discovered ...

From A Rep's Perspective

Mike Root

February 4, 2014

Registrations to the Market were up over 20% I heard. People were in the halls, in the showrooms and in the common areas after the market closed. Buses were full, taxis in high demand and the valet parkers were running their tails off.By all indications Winter market in Vegas seemed to be a hit!And why shouldn't it be? For most 2013 was a good year for our industry. Home sales are trending up, consumer confidence was higher and the stock market exploded giving everyone a sense of better times ahead.Markets are always a good time to ...
International Furniture Fair Singapore

March 13, 2014 - March 16, 2014

Singapore Expo

Singapore, SG

Philippines International Furniture Show (PIFS)

March 14, 2014 - March 17, 2014

SMX Convention Center, Seashell Lane, Mall of Asia Complex

Manila, PH

IFFINA 2014

March 14, 2014 - March 17, 2014

Pegambiran streets No.5 Rawamangun

Jakarta, Jakarta
More
Amp up the drama with arresting combinations of black and white, setting the stage for spectacularly commanding style.
View All Slideshows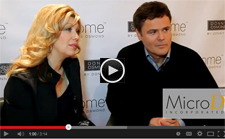 Join Furniture/Today as we interview manufacturers and retailers at the Winter 2014 Las Vegas Market. See the videos. Our video coverage was sponsored by MicroD.