Furniture management news and awards involving furniture manufacturers, retailers, suppliers, sales representatives and others in the industry
India Inspiration: Destination Design by Black Dog Salvage

Repurposed, reclaimed and refurbished materials from India are at the heart of a new furniture collection — Destination Design by Black Dog Salvage — coming to spring High Point Market. Get an exclusive behind-the-scenes look at the country that inspired a collection.

See Video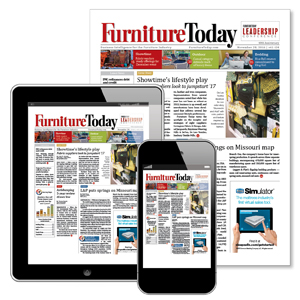 See the digital edition of Furniture/Today, which allows you to flip through the pages, click on any underlined area to visit a website or send an e-mail, search to find content in the magazine, or share pages with your friends. See the latest issue!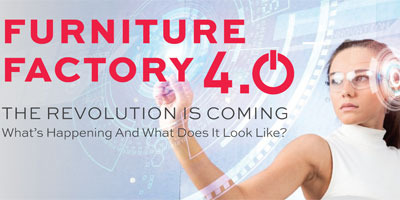 If you missed our recent webcast with Lectra on what the furniture factory of the future will look like, then you can click here to watch the recorded version. Topics include what trends and challenges are affecting furniture factories in the US & Worldwide and how these challenges are changing furniture production.
View Now!
From A Rep's Perspective

Mike Root

October 3, 2017

What will the industry look like in 5 years?

Here we are at another furniture market. My father Emmet reminisces about his early days going to 120 or so North Carolina markets, so my 35 years pale in comparison. But it's a long time no matter who's counting. There have been lots of changes over the years, but I don't think we've seen anything like the rapid changes this past 24 months. Retailers think about what they need to do to compete with the Internet players. Factories have to drill down efficiencies to compete for relevancy with major retailers. Faster deliveries, no questions asked returns ...

Design Between the Lines

American Society of Furniture Designers

September 28, 2017

"Design Between the Lines" Episode 113 Sarah Marriage

In this episode John Conrad highlights a maker-designer who is working to shape the face and future of woodworking; Sarah Marriage. Her award-winning work is beautiful, meticulous and thoughtful and has been shown at galleries and trade shows across the US. See the video below, or to download the podcast please click here .

Bedding Today

David Perry

September 12, 2017

Old issue provides timely look at Len Gaby's bedding career

While my old friend Len Gaby was in the final days of his battle with cancer, I was sorting through a big stack of old issues of Furniture Today. That stack, tucked into a corner of our bedroom for years, commanded my attention now that it was time for us to move to a condominium elsewhere in High Point. I flipped through the issues, assigning most to the discard pile, until I came to the issue of July 29, 2002. There on the cover was a picture of Len and Debbie Gaby of Sleep America, who were featured in my ...
Southern California Furniture & Accessory Market

November 9, 2017 - November 10, 2017

Long Beach Convention Center

Long Beach, California, US

Furniture Today Leadership Conference

November 28, 2017 - November 30, 2017

Four Seasons Resort

Orlando, Florida, US

Showtime Fabric Fair

December 3, 2017 - December 6, 2017

High Point, N.C.
More