Wood furniture industry news, features and analysis
In-depth news and style trend coverage of the wood furniture industry, including bedroom, youth bedroom, formal dining room, casual dining, home entertainment, home office and occasional furniture such as tables, cabinets, chests and curios.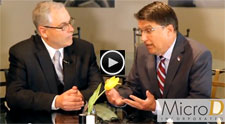 Bill McLoughlin, editor-in-chief of Furniture/Today, sits down with North Carolina Governor Pat McCrory, Congressman Mark Walker, High Point Mayor Bill Bencini and George Jordan, president of MT Company to discuss new programs aimed at helping support furniture industry growth. Start Watching! Coverage sponsored by MicroD.
From Fabric to Frame

Cindy W. Hodnett

May 13, 2014

One of the great things about not being famous is anonymity — the type of anonymity that allows one to walk into a furniture retail store to take a look at what's on the floor and to experience customer service firsthand. These unscheduled excursions offer a rare opportunity for those of us immersed in the furniture business to put on a different hat and see the world of furniture from the consumer's viewpoint, often illuminating why some stores continue to perform well even when consumers are reigning in their spending. Following a recent visit to a large fabric manufacturer ...

An Insider's View

Jerry Epperson

November 18, 2013

How much of our current furniture is really 'new'?

I hope no one expects me to lead by example. One evening, my lovely bride of 44 years and I were watching an old black and white murder mystery on television. Actually, I was watching the movie and she was playing Words with Friends with a friend, I guess.The movie was so old, the family had a maid who answered the door and served the meals. I interrupted Kathy and asked her if she noticed anything about the house in the movie. After a few minutes, she said it looked normal to her.That's when I pointed out ...

Editor's Desk

Ray Allegrezza

November 18, 2013

Designer aims to create domestic line

Sometimes you hear a story that simply leaves you scratching your head in disbelief. Last week, I heard one from a furniture designer named Austin Rese. Austin is a man on a mission to launch a new lifestyle line of home furnishings. But before you yawn and turn the page, let me add this twist: He intends to bring this line of home furnishings to market from materials sourced only from the United States.Like so many others in our industry, Rese has been troubled by the staggering loss of U.S. jobs to overseas production. But unlike most of ...
International Textile Market Association Showtime

May 31, 2015 - June 3, 2015

Various Market Buildings

High Point, NC, US

Showtime

May 31, 2015 - June 3, 2015

Downtown High Point

High Point, NC, US

Canadian Furniture Show

June 4, 2015 - June 7, 2015

International Centre

Toronto, Ontario, CA
More