In-depth news and style trend coverage of the wood furniture industry, including bedroom, youth bedroom, formal dining room, casual dining, home entertainment, home office and occasional furniture such as tables, cabinets, chests and curios.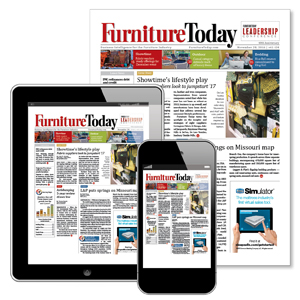 See the digital edition of Furniture/Today, which allows you to flip through the pages, click on any underlined area to visit a website or send an e-mail, search to find content in the magazine, or share pages with your friends. See the latest issue!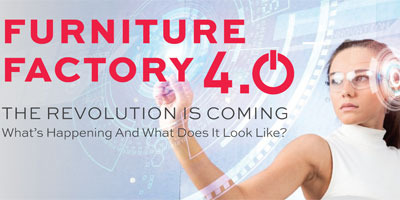 If you missed our recent webcast with Lectra on what the furniture factory of the future will look like, then you can click here to watch the recorded version. Topics include what trends and challenges are affecting furniture factories in the US & Worldwide and how these challenges are changing furniture production.
View Now!
Furniture Everyday

Bill McLoughlin

August 24, 2017

Why is the Internet taking share? It's the consumer's fault

There's been a great deal of discussion recently about the rising power of e-commerce and the concern that Internet specialists could cause a decline in brick-and- mortar retail. Having recently completed, or almost completed, the purchase of a new bed and mattress, I think I know why that might be happening. It's the consumer's fault. Consumers are just not reasonable. They don't care about reasonable delivery windows, the time it takes to have something made or shipped, or unexpected delays from vendors who didn't hold up their end of the bargain. They live messy, hectic ...

Sourcing Strategies by Tom Russell

Thomas Russell

August 23, 2017

U.S. government appears to step up antidumping duty enforcement

In a recent blog I wrote about the issue of antidumping duty collection as addressed by two industry customs and compliance experts who spoke about antidumping enforcement at the June 2017 Logistics Symposium. The experts, Steve Fodor, of Customs Services & Solutions, and Venetia Huffman, of CV International, predicted that U.S. Customs and Border Protection will increase its efforts to collect duties on a variety of products, including wooden bedroom from China and uncovered innerspring units from China, Vietnam and South Africa. Their predictions are already starting to come true. In mid-August, a year after authority began for investigating under ...

Clint's Notes

Clint Engel

December 29, 2016

My mom is 82, and she loves Ikea. Her dining room group -- Ikea. Bedroom furniture (except for the nifty new adjustable foundation from Ashley HomeStore) -- Ikea.* Her living room? OK, the upholstery is Ekornes. Still, those little sloping footrests that go with the reclining sofa — Ikea, as she didn't really want to dish out hundreds more for the real thing. Office furniture — Ikea. Even her plates and napkins come from Ikea. All this is to point out that apparently my mother is an outlier. According to a consumer survey conducted by lender Earnest, the peak age for shopping that ...
Southern California Furniture & Accessory Market

November 9, 2017 - November 10, 2017

Long Beach Convention Center

Long Beach, California, US

Furniture Today Leadership Conference

November 28, 2017 - November 30, 2017

Four Seasons Resort

Orlando, Florida, US

Showtime Fabric Fair

December 3, 2017 - December 6, 2017

High Point, N.C.
More