In-depth news and style trend coverage of the wood furniture industry, including bedroom, youth bedroom, formal dining room, casual dining, home entertainment, home office and occasional furniture such as tables, cabinets, chests and curios.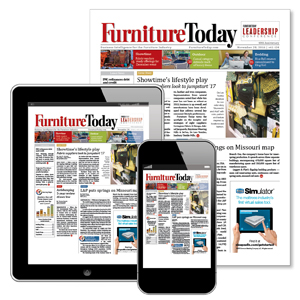 See the digital edition of Furniture/Today, which allows you to flip through the pages, click on any underlined area to visit a website or send an e-mail, search to find content in the magazine, or share pages with your friends. See the latest issue!
Clint's Notes

Clint Engel

December 29, 2016

My mom is 82, and she loves Ikea. Her dining room group -- Ikea. Bedroom furniture (except for the nifty new adjustable foundation from Ashley HomeStore) -- Ikea.* Her living room? OK, the upholstery is Ekornes. Still, those little sloping footrests that go with the reclining sofa — Ikea, as she didn't really want to dish out hundreds more for the real thing. Office furniture — Ikea. Even her plates and napkins come from Ikea. All this is to point out that apparently my mother is an outlier. According to a consumer survey conducted by lender Earnest, the peak age for shopping that ...

Sourcing Strategies by Tom Russell

Thomas Russell

September 8, 2016

8 reasons not to worry about antidumping duties in Vietnam

A recent blog I wrote addressed the on and off debate - mostly fueled by fearful Vietnamese manufacturers - about whether Vietnam would be the next target for antidumping duties. As we've reported on many occasions, Vietnam has captured the majority of China's wooden bedroom business due to duties the U.S. government has placed on China in the category. Vietnamese bedroom producers often fret about the likelihood of duties being placed on them. But a reader who responded to the blog, Kevin Lu of RK Resources in Vietnam, raised some points on why it's not very likely to ...

Furniture Everyday

Bill McLoughlin

March 28, 2016

Eclecticism gone wild: 2 solutions for today's overwhelmed shopper

I've decided to redecorate and want to be on-trend. So the plan is to do my whole home in mid-century modern casual neo-industrial glam. Sound a little confusing? Welcome to the furniture business circa 2016. The mass customization that emerged in the 1990's as a response to the individualism of Gen X has evolved into a raging Millennial eclecticism of HGTV garage-sale chic that has turned the absence of style into a decorating statement. Today consumers want their homes to reflect their personal lifestyles, their sense of individual expression. The challenge is that while some may see themselves ...
Las Vegas Market

July 30, 2017 - August 3, 2017

World Market Center Las Vegas

Las Vegas, Nevada , US

All American Furniture Expo

August 2, 2017 - August 3, 2017

Utz Building, York Expo Center

Lancaster, Pennsylvania, US

Next Conference

September 25, 2017 - September 27, 2017

Nationals Park

Washington, DC, US
More