Furniture Industry Community News, Donation Events, Activities, Charities
Furniture industry contribution news and activities from companies that benefit their communities through charities and donations.
Editor's Desk

Ray Allegrezza

November 4, 2013

I met the future of our industry

The recently completed High Point Market gave the industry a chance to preview thousands of new products, some of which may become bestsellers. But I am here to tell you that sometimes our industry's future best sellers are not made of wood, fabric, foam, metal or glass. Instead, the future best sellers I spotted during market were 10 intelligent and driven young men and women who have earned the right to be recognized as Moh Scholars.In 2001, industry leader Larry Moh established the scholarship to honor his wife, Celia. The goal is to recognize and support the academic ...

From A Rep's Perspective

Mike Root

April 26, 2012

Congratulations to the Honorees of the Furniture Industry Gala Awards

Monday night at market there was a joint event sponsored by the National Home Furnishings Association (NHFA) and the International Home Furnishings Representative's Association (IHFRA). This is just one of many events that retailers and reps work together on to honor noteworthy members for their dedication to the industry. In local chapters around the country, local charity functions and industry events like the March on Washington, reps have always been supportive and have worked with retailers and factories to make our industry a better place. This year we had a particularly good slate of honorees from IHFRA. Rick Gillespie ...

Editor's Desk

Ray Allegrezza

August 24, 2010

Here at Furniture/Today, we always look for ways to bring added value to you, often in the form of more news, analysis, statistics, more updates of people, products and so on.When we added a talkback section on our website, which allowed users to comment on news stories, the goal was to give you more of an opportunity to comment on those items.However, due to a growing issue stemming from highly inappropriate posts on our website, Furniture/Today will no longer allow readers to post comments to the news stories reported. Since the day our website launched some ...
More
Out and about at the Casual Living Conference

From touring a retail store or playing a round of golf to attending cocktail parties with casual industry peers or learning more about the changing marketplace, professionals who took time to attend the third annual Casual Living Conference found time to squeeze in some fun. Change: The New Status Quo was the theme for the event, held Feb. 19-21 at Rosen Shingle Creek in Orlando, Fla.
View All Slideshows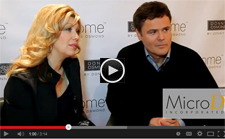 Join Furniture/Today as we interview manufacturers and retailers at the Winter 2014 Las Vegas Market. See the videos. Our video coverage was sponsored by MicroD.