Editor's Desk

Ray Allegrezza

September 25, 2013

They say good news travels fast. I say bad news travels even faster, especially when litigation is along for the ride.The bad news I am referring to is Prop 65, which began innocuously enough in California decades ago as the Safe Drinking Water and Toxic Enforcement Act of 1986. In a nutshell, Prop 65 mandates that businesses must warn California consumers about the presence of certain chemicals identified by the state to "cause cancer or other reproductive toxicity."So far, so good. But good intentions often make the best pavement for hell's highways, and I fear that Prop ...

Editor's Desk

Ray Allegrezza

August 19, 2013

California regs may boil industry

I want you to recall the biology class you probably took back in high school. Specifically, think back to the class where you had to dissect a frog. When I do, I also remember our teacher telling us the old boiling frog story.The story's point was that a frog placed in boiling water would immediately jump out. But placed in cold water that was slowly heated, the frog would not realize the imminent danger and boil to death.What prompted that rather unpleasant memory from years ago was a discussion I had recently with some suppliers and retailers ...

The Writer's Bureau

Heath E. Combs

February 5, 2013

Let FR Makers Pay Our Prop 65 Costs

In a perfect world, chemical companies would be paying our California Proposition 65 attorney fees or other costs. They would, at the very least, be sharing our headache. As a byproduct of California's TB 117 flammability law - now under revision - about 60 furniture companies could find themselves in court for having flame retardants in foam. Since the 1970s environmentally toxic flame retardants were used foam because otherwise, the TB 117 requirement that furniture pass an open flame test would have been very difficult, or impossible, to pass. TB 117 may have unintentionally - due to lack of long-term research on ...
More
Amp up the drama with arresting combinations of black and white, setting the stage for spectacularly commanding style.
View All Slideshows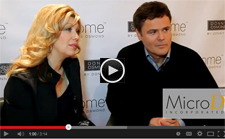 Join Furniture/Today as we interview manufacturers and retailers at the Winter 2014 Las Vegas Market. See the videos. Our video coverage was sponsored by MicroD.