Mattress & Bedding industry news, features and analysis
Furniture Today provides in-depth coverage of the American bedding industry, bed conferences and latest mattress news reports.

If you missed the chance to attend our live webcast from Furniture/Today and Autodesk®, you can view a recorded version of the event. The session covered the latest innovations in furniture visualization and includes Q&A with the audience.
Click here!
Justin Gannon at Bedding Conference

David Perry talks to Justin Gannon about online mattress sales and Classic Brands online offerings at The 2014 Bedding Conference.(Our video reports are brought to you by DesleeClama.)

See Video
Bedding Today

David Perry

July 8, 2014

Bedding specialists on ascent despite 'mediocre' year in 2013

I have it on good authority that leading bedding specialty retailers last year suffered a "mediocre sales performance overall." But I'm going to challenge that assessment nonetheless. Bedding seldom turns in a mediocre performance, and I don't think it did last year. The 10 bedding specialists on Furniture/Today's Top 100 U.S. Furniture Stores list, which we published in our May 19 print issue and which can now be purchased here, collectively recorded a 7.6% sales gain last year and boosted their store count by 273 stores. Those sound like pretty good numbers to me ...

Bedding Today

David Perry

June 26, 2014

Millennials want fresh thinking but their critics aren't listening

We asked a group of Millennials to share their thoughts on a number of industry issues at our recent Bedding Conference. They did. And some of our audience members didn't like what they heard. Our Millennial panel produced a lively discussion, providing several insights into ways that our industry can better connect with this important consumer group. Our Millennials — Adam Hudson of Hudson's Furniture, Kyle Johansen of HOM Furniture, Rachel Tronstein of Gardner-White Furniture and Elana Stone of BedMart — talked about the importance of flexible work schedules in retail stores and the need for fresh thinking if the ...

Editor's Desk

Ray Allegrezza

June 24, 2014

Take notice of Kaiser's FR edict

Big companies tend to make big news. In our sector, look at Ashley. When they launch an initiative, make a statement or take a stance on an issue, people take notice. Last week, a big company outside our sector, Kaiser Permanente, launched an initiative, made a statement and took a stance, and I sat up and took notice. Here's why: Last week, Kaiser Permanente, the country's largest nonprofit health management group said that as of June 3, it would no longer buy any furniture that incorporates polyurethane containing flame retardants. The company also said that it will shun ...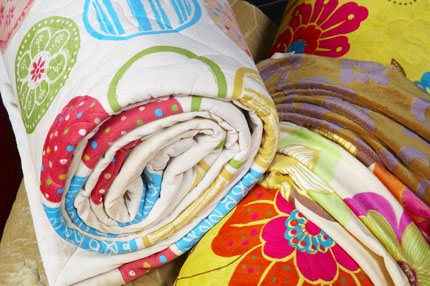 See the fabric introductions from the companies that are exhibiting in the International Pavilion at Showtime in June. See the new styles and colors..
Las Vegas Market

July 27, 2014 - July 31, 2014

495 S. Grand Central Parkway

Las Vegas

Abimad

July 29, 2014 - August 1, 2014

Expo Center Norte

Sao Paulo, BR

Tupelo Furniture Market

August 20, 2014 - August 23, 2014

1879 N. Coley Road

Tupelo, Miss., US
More