Editor Thomas Lester provides in-depth coverage of the rug industry, including news, analysis and style trend reports. Includes coverage of style, color, construction, marketing, merchandising, manufacturing and sourcing.
Orian program brings space-dyed look at value

Orian Rugs' newest design program brings the look of space-dyed yarn to the marketplace without actually space dyeing the yarn. More

New rugs are distressed, not stressed

It's Day 2 of the winter edition of the Atlanta International Area Rug Market, and what's old is new again.Color is core for spring and summer, as are heirloom-inspired looks on newly made rugs specifically designed to mimic vintage, estate-quality hand-me-down handmades from Grandmama. More

Atlanta Rug Market kicks off today

The winter edition of the International Area Rug Market gets underway today at the AmericasMart. More

Capel Rugs' new Braid Shop Catalog rooted in legacy

At the core of Capel Rugs' 100 years in business are its signature braided rugs, and the company is paying homage with a new, special-edition catalog. More

Surya touts diversity across 27 new rug collections

Surya is emphasizing its range of rug styles and category breadth and depth this month with 27 new collections launching at the winter markets. More

Jaipur Living's spring catalog marks its 'most beautiful, functional'

In line with its recent brand refresh, Jaipur Living is launching its Spring 2017 this month with an also-new perspective on expanded products and designs themes. More

Entryways adds romance, rebirth to rugs

Hand-crafted and sustainable doormat company Entryways has planted a garden of springtime rugs that pays homage to the season's flora and fauna. More

Feizy to host Kerrie Kelly in refreshed Dallas showroom

Rug manufacturer Feizy is celebrating its newly revamped showroom during the Jan. 18-24 Dallas Total Home & Gift Market. More

KAS Rugs adding to assortment this winter

Rug and soft goods manufacturer KAS Rugs will introduce some 150 new products during markets in Atlanta and Las Vegas. More

Couristan returns to Las Vegas Market

Rug manufacturer Couristan is returning to the Las Vegas Market in time for the Jan. 22-26 show. More
Next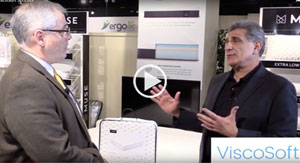 Follw our video coverage of the Las Vegas Market. In the first video, Harry Costantino previews Viscosoft's Vegas introductions -- focusing on the idea of building: building the sale, building the relationship with the customer and building the business. See the videos! (Coverage sponsored by ViscoSoft.)
Nico Home opens new avenues for Nourison

Nourison's Alex Peykar unveils the company's new Nico Home division, which offers a broader range of products and looks targeting furniture stores. The effort is also supported by the company's addition of industry veteran and new vice president of sales Tommy Leflein. (Videos sponsored by MicroD.)

See Video
An Inside Look

Thomas Lester

December 12, 2016

How do you organize your rug assortment?

Pop quiz: What do your customers ask for when looking for a rug? Is it a particular color? How about a certain style? Is price a consideration? Does brand play a factor? Chances are it's the first three questions listed here in any order. The brand question is most likely a distant fourth place. (Or even behind other questions that aren't published in this space.) I'm asking these questions to set up another one: How do you organize your rug assortment in store? Do you set the rugs up by color, by style, by construction, by brand ...

An Inside Look

Thomas Lester

October 20, 2016

Rug showrooms generating market buzz

Plenty of goings-on are taking place inside rug showrooms at this week's High Point Market. Buyers and designers who visit will have the chance to see big names, get a first look at plenty of new product and have the chance to cut loose and try new things after long days. A number of special guests will be in rug showrooms to help promote their branded products. In the early portion of the week, the husband-and-wife design tandem, the Novogratz (best known for shows on HGTV and Bravo), will spend plenty of time in Momeni's International Home Furnishings ...

An Inside Look

Thomas Lester

October 4, 2016

5 things retailers need to know about the rug business heading into 2017

By and large, the furniture retail business has been uneven throughout 2016 with good business one month followed by a lackluster showing the next. That inconsistency is being felt in the rug industry as well. Some producers report flat-to-modest sales to date while others say they're up by double digits. So what's going on at the retail level? Where is business strongest in this segment? What price points are doing the best? What styles are resonating with consumers? What constructions are leading the way at retail? How can you better align your business to maximize these trends? Furniture ...
New York NOW

February 4, 2017 - February 8, 2017

Javits Center

New York, New York, US

Stockholm Furniture Fair

February 7, 2017 - February 11, 2017

Stockholm, SE

Ambiente Internationale

February 10, 2017 - February 14, 2017

Frankfurt am Main

Frankfurt, Germany, DE
More