News, features and analysis of the Winter 2017 Las Vegas Market. Coverage includes updates on product introductions, style trends, business developments and strategies for growth.
Las Vegas Market News From Furniture Today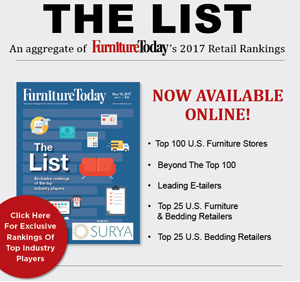 Get exclusive rankings of Furniture Today's top industry players including Top 100 Furniture Stores, Top 25 Bedding Retailers and leading e-Tailers. Get the stats now! Sponsored by Surya.
Furniture Everyday

Bill McLoughlin

November 22, 2017

Did you hear the rumor about Las Vegas Market?

There is a rumor going around. Normally we don't report rumors, but this is a column, not a news story, so bear with me. The rumor is that some manufacturers exhibiting at the upcoming Las Vegas Market are filling up their dance cards a little earlier than usual. In other words retailers, even before Black Friday and Cyber Monday, are looking to get a head start on finding the latest and greatest new products. Being a glass-half-full person, I choose to believe that's good news, and here's why. First, no one rushes out to get new stuff ...

Furniture Everyday

Bill McLoughlin

October 5, 2017

Tragedies bring immense pain, but also stories of heroism and hope

I would like to take pause from the regularly scheduled business column that appears in this space to offer heart-felt condolences to all those impacted by the shooting in Las Vegas. It is yet another reminder, as if one was needed after the succession of tragedies that have struck Houston, Miami, Puerto Rico and so many other places this year, that life is a precious and fragile gift. There are no magic words of comfort to ease the suffering of those who have lost loved ones. There is only empathy, sympathy and prayers to ease their pain. It is a ...

Bedding Today

David Perry

August 22, 2017

ISPA's latest quarterly figures marred by 3 big asterisks

There was no big asterisk on the quarterly bedding report issued the other day by the International Sleep Products Assn. But there should have been. That's what one bedding leader said to me at the recent Las Vegas Market, as we assessed that eye-opening ISPA report, which showed the industry in negative shipment territory. Dollars were down 6.8% in the second quarter and are down 3.5% year to date, while units were down 8% in the second quarter and are down 6.2% year to date. Those bleak results had many bedding leaders shaking their heads in ...
More
Furniture Today Leadership Conference

November 28, 2017 - November 30, 2017

Four Seasons Resort

Orlando, Florida, US

Showtime Fabric Fair

December 3, 2017 - December 6, 2017

High Point, N.C.

Tupelo Furniture Market

January 4, 2018 - January 7, 2018

TFM Convention

Tupelo, Miss., US
More