News, features and analysis of the Winter 2017 Las Vegas Market. Coverage includes updates on product introductions, style trends, business developments and strategies for growth.
Las Vegas Market News From Furniture Today
Las Vegas Market to feature record number of temporary exhibitors

Las Vegas Market announced that a record number of gift and home décor temporary exhibitors are lined up for the summer market, which will take place July 30-Aug. 3. More

'Kismet' brings together natural, synthetic fibers at Karastan

Applying new fiber and manufacturing innovations, Karastan has developed its first natural-and-synthetic rug collection.Call it Kismet. More

Loloi offers mix of hand-hooked, -knotted and -loomed this summer

Twelve new collections, five for Magnolia Home and seven in-house, have Loloi occupied this summer. More

Kas to 'Indulge' at summer markets

Kas Rugs is giving its rugs the royal treatment this summer, with new collections the likes of Indulge and Luxe. More

Seaside Casual to debut new showroom at Vegas summer market

Outdoor furniture manufacturer Seaside Casual is opening a new 1,500-square-foot showroom at the World Market Center in Las Vegas. More

IMC names Magliarditi as SVP of operations

International Market Centers has named Joseph A. Magliarditi as senior vice president of operations, a position on the company's executive leadership team. More

Capel's summer market intros center on new rug trio

Capel Rugs is introducing three new area rug collections at the upcoming Atlanta and Las Vegas markets. More

Nourison to bring variety to summer markets

Nourison's summer market lineup is all about variety. The design house and manufacturer will be previewing new hand-knotted area rugs from its Aldora and Ellora collections, as it works to expand its selection of this construction to keep up with growing demand. More

Karastan, Mohawk Home's upscale area rug brand, has a date with destiny this summer. More

Last call: Time's running out to send new product submissions to Furniture Today

The summer Las Vegas Market is right around the corner, and the time to get your new product information to the Furniture Today editors is now. More

Diamond Sofa to mark 25 years with Silver Anniversary Collection

To celebrate its 25th anniversary, Diamond Sofa will showcase its Silver Anniversary Collection in its newly expanded Las Vegas Market showroom during the July 30-Aug. 3 event. More

Exhibitor lineup continues to grow for Las Vegas Market

Nine new showrooms are lined up for the upcoming Las Vegas Market, as well as six expanded showrooms and eight renewals, according to show organizer International Market Centers. The summer event, set for July 30-Aug. 3, has also had an early sell-out of home furnishings temporary exhibits in Building B, floor 2. More

Las Vegas Market sets plans for annual Gift For Life fundraiser

Las Vegas Market will host its 7th annual "Up on the Roof" fundraiser benefiting Gift For Life on July 31 during the Summer Las Vegas Market set for July 30-Aug. 3. More

Want to get covered in Furniture Today?

Submit product information to Furniture Today for inclusion in our issues covering Las Vegas Market, High Point Market and other important industry events. More
Las Vegas Market Seminars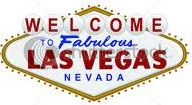 Educational seminars at the Las Vegas Market will give buyers a chance to soak up an array of ideas, advice and information about the home furnishings business. See the schedule.
Bedding Today

David Perry

January 31, 2017

Bob Sherman loomed large on Las Vegas bedding scene

There he was, much larger than life, once again dominating the mattress scene at the bedding-rich Las Vegas Market. Bob Sherman's industry comeback is now under way at Restonic, a fact advertised with a huge banner on the World Market Center parking deck. The banner pictured Sherman holding the Restonic logo and just a few well chosen words: "Bob Sherman" in the lower left corner and "Space B926" in the lower right corner. Call that his new business card, an invitation to his many retail friends, a shot across the bow of his new competitors, or even a monumental ...

Furniture Everyday

Bill McLoughlin

January 26, 2017

Optimism is great; a strategy is better

Attendees at this week's Las Vegas Market took a page from the U.S. Post Office, refusing to be deterred by opening day rains and swarming the Market Center in what IMC officials said was likely to be record numbers. And while it's common to take such reports from show and market operators with a grain of salt, the classic eye test of elevator, car and bus traffic along with activity on the market floor itself suggested they just might be right. The prevailing mood was one of optimism among exhibitors, significant numbers of which came to market ...

A Rep's Perspective

Mike Root

January 19, 2017

Winter Las Vegas Market is a chance to start the new year off right

After sitting through an ice storm this past weekend, a trip to Las Vegas does not sound like that bad of a deal. That is until I realize we are ostensibly going there to work. By some standards, what we do would not be considered work … hanging out in well-displayed climate-controlled showrooms, telling jokes while waiting for customers, enjoying the company of retailers and vendors, and going out at night to some great places (if we so choose). As glamorous as that sounds, I believe reps are the pure essence of free enterprise. We get to enjoy the largesse of ...
More
Las Vegas Market

July 30, 2017 - August 3, 2017

World Market Center Las Vegas

Las Vegas, Nevada , US

All American Furniture Expo

August 2, 2017 - August 3, 2017

Utz Building, York Expo Center

Lancaster, Pennsylvania, US

Next Conference

September 25, 2017 - September 27, 2017

Nationals Park

Washington, DC, US
More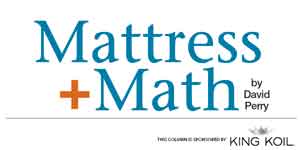 Follow David Perry's latest blog series on the numbers behind the mattress industry. This week he looks at consumers' top sleep strategies Click here to read! Sponsored by King Koil.